Troubled Water?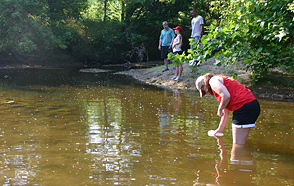 July 6, 2012
The Big Walnut Creek watershed is only a speck on a map of Indiana, but its 424-square-mile footprint probably doesn't seem so small to the handful of people who monitor its health. Those conservationists are about to get some help.
This summer, Associate Professor of Geosciences Jeanette K. Pope and five DePauw students – Carly T. Dutkiewicz '14, Caitlin J. Handy '15, Alessandra N. Pistoia '13, Gregory B. Screws '13 and Reilly S. Taylor '13 – are collecting water quality data for the Big Walnut Watershed Alliance (BWWA), an organization that oversees the watershed.
"In environmental policy, we often find science on one side and politics on the other, without a whole lot of communication between the two," Pope says. "The Alliance is really working to bridge that gap by using science to inform those policies."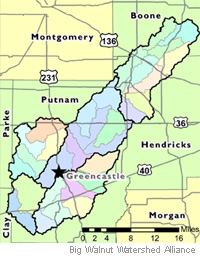 Though typically named for a body of water, a watershed is really defined by all the land that drains into it. The Big Walnut Creek watershed (pictured left), for example, is formed by dozens of smaller tributaries, each fed by water from precipitation and irrigation – or anything else that makes its way into them. The BWWA's previous water quality tests looked at everything from leaky septic tanks to runoff from parking lots, but the data Pope and her students are collecting is much more precise.
"We're focusing specifically on agricultural runoff, and based on maps of the watershed, most of the agricultural land is in the northern part," explains Dutkiewicz, a member of DePauw's Science Research Fellows (SRF) program.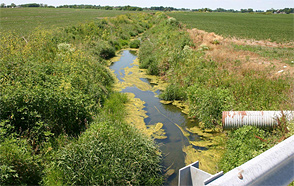 Northwest of Indianapolis, the Big Walnut Creek watershed is just a series of streams and drainage ditches. But it's here, where more than 90 percent of the surrounding land is used for row crops, that the future of the creek may be decided. Fertilizer in agricultural runoff often leads to eutrophication, a process that spawns brightly colored blooms of algae, killing fish and making the water unsafe for humans. And because watersheds are like nesting dolls – smaller ones resting within larger ones – water pollution in the creek is carried downstream to other parts of the state and country. Big Walnut Creek flows into the Eel River, then the Wabash, the Ohio, the Mississippi, and finally the Gulf of Mexico, where an 8,000-square-mile "dead zone" has formed as a result of agricultural runoff.
To identify problems spots at the top of the Big Walnut Creek watershed, Pope's group divided the northern section into smaller catchments – essentially, watersheds at the scale of the individual feeder streams – and determined the lowest point on each. Water at these points will be tested for fertilizer ingredients such as nitrogen, phosphorus and potassium, providing the BWWA with information about how and where agricultural runoff is entering the watershed in its most heavily farmed areas.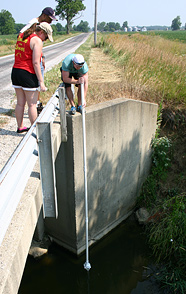 "Compared to what has already been done, we'll have more test sites within a smaller area, so we'll be creating a high resolution picture of water quality," says Caitlin J. Handy '15, another SRF member working on the project. "I'm excited to see if there are differences between the catchments, but I think the more exciting part about getting the data is trying to make a change and fix things, so I think it's great we have a group like the Alliance to go to with our findings."
Using their findings, the BWWA will be able to visit with specific land owners about how their properties may be contributing to agricultural runoff in the watershed and what they can do about it. Indiana currently offers matching funds for solutions such as creating buffer zones between drainage pipes and waterways, or planting strong-rooted grasses to prevent fertilized soil from eroding into the water.
Pope believes that most farmers will choose to implement the fixes, especially when offered financial assistance from the state. However, if conditions in the watershed worsen due to agricultural runoff, those who don't participate now may not have a choice later on.
"In 5 or 10 years, people might not be given an option," Pope says. "Increased environmental regulation might mean that people have to make these changes – and have no matching funds to do so."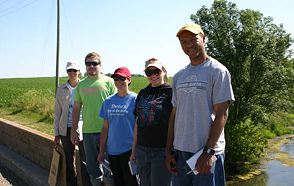 Pope and her students met with the BWWA in late June to present the details of their project, and were invited to return later in the summer to share their findings. Gregory Screws, who along with fellow seniors Pistoia and Taylor received a student-faculty summer research grant, says BWWA members were excited to hear their proposal. More importantly, Screws thinks the meeting helped to assure the organization that he and the other students are taking the project seriously.
"It made a huge difference to be there in person," he says. "It was very important for us to interact with them face-to-face to demonstrate our commitment to the project, and our dedication to analyzing how agricultural runoff affects water quality in the watershed."
"It makes me feel very proud of the work that I'm doing knowing that it's going to contribute to something larger," Dutkiewicz adds. "Our research could ultimately help the community, and that's something that's very neat about our project."
Back