Prof. Terri Bonebright to Serve as Dean of the Faculty
June 5, 2012
Terri L. Bonebright, professor of psychology, has accepted a three-year appointment as dean of the faculty at DePauw University. Dr. Bonebright will take over for Kerry E. Pannell, whose three-year term as dean of the faculty ends at the end of the month. Dr. Pannell is Q.G. Noblitt Professor of Economics and Management at DePauw.
"As did Kerry Pannell before her, Terri brings a wealth of experience to this position, including five years as chair of the psychology department, four years on the Faculty Development Committee, three years as the Faculty Development Coordinator,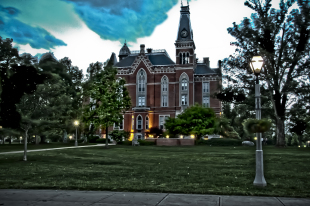 and one year on the Committee on Faculty," notes David T. Harvey, vice president for academic affairs and professor of chemistry and biochemistry. "In addition, Terri is a frequent organizer of and participant in on-campus workshops, reading groups, colloquia, and symposia."
Harvey adds, "DePauw has recognized Terri's many contributions to the University through its Exemplary Teaching Award and the Johnson Family University Professorship. I very much look forward to working with Terri during the coming academic year."
Back