Published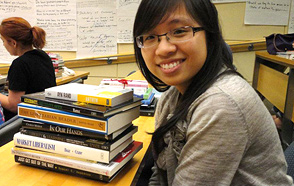 July 26, 2012
Lucy Hang La '15 wants to learn more about the American education system and thinks that Indiana is a good place to start. Last spring, she took it upon herself to call the Indiana Policy Review Foundation to inquire about summer internship opportunities, and she made such an impression that Indiana Policy Review editor Craig Ladwig hired her.
She continues to make a strong impression on Ladwig. La just published her first article, "An Alternative to Unionism: Teaching as a Profession," in the fall 2012 issue of Indiana Policy Review Foundation Journal. An excerpt of the article is located on the foundation's website.
It helps that La is a DePauw student, Ladwig explains. "Since she called us out of the blue, DePauw helped pre-define her abilities," he says. "Once we checked her background and talked to her adviser, we thought – this is amazing.
"Lucy is here to learn. She absorbs everything. She sought us out because she wants to learn about Indiana's state-based education, and if you're going to study American education, you have to start by studying at the local level. She had figured all of that out on her own, and that impressed me a lot."
Ladwig explains that La was first asked to do a survey of the literature ­– read abstracts and write a citation, which she accomplished quickly and flawlessly. "We decided it was clear she could go ahead and write an assessment of collective bargaining, and she did a great job. She writes really well, but I am most impressed with her initiative. Lucy has a persistence combined with a willingness to absorb what people are teaching her."
Ladwig describes the Indiana Policy Review Foundation as a free market think tank. "We take free market equations and apply them to the most local level we can," he says. "We don't deal in social or political issues at all, but purely economic ones."
When talking about potentially heated topics like education reform, it could be easy to cross somebody. Still, the position La took in her article is strong. "She's an honest student," Ladwig says. "She based her writings on what she's read, and she's certainly open to what someone else has read. She hasn't taken a political position, but is looking at the issue from the research she's done."
La is a political science major with minors in French and education studies. "I came to DePauw because I'm interested in a liberal arts education and impressed by DePauw's strong academic program, its close-knit community and rural location." La says that Greencastle has been a welcome change after growing up in Vietnam's capital city of Hanoi.
"I'd like to specialize in public education policy and return to Vietnam and contribute to our educational system," La says. "There are big and complex differences between the two countries – the United States and Vietnam. They have different political and social systems, which as a result affect our educational systems, and I'm learning a lot from the American system. This experience has confirmed my career choice because I'm even more passionate about education now."
Back