Rob Johnson '90 On Hand as Two Former DePauw Faculty Members are Recognized
August 10, 2012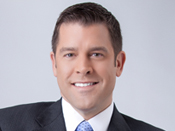 Two of the founding members of the Association for Education in Journalism and Mass Communication (AEJMC) -- former DePauw University faculty members Nathaniel W. Barnes and Eldie E. Troxell '12 -- were recognized last night as the organization celebrated the 100th anniversary of its founding at an event in Chicago. Rob Johnson (pictured), evening news anchor at Chicago CBS affiliate WBBM-TV and 1990 graduate of DePauw, attended the dinner as a representative of DePauw as the two founders were honored.
A plaque was presented, which is seen in the image below.
Barnes was professor and chair of English composition and rhetoric at DePauw from 1907 to 1916. He was succeeded by Raymond W. Pence. Professor Barnes co-authored the 1913 book The Art of Writing English: A Book for College Classes.
Troxell received his A.B. degree from DePauw in 1912 and was an instructor of English at the University from 1912-14. He went on to serve as a
professor of English, advertising and journalism at Toledo University, where he was dean of the Municipal College of Commerce and Business. Troxell later had a career in the newspaper business.
AEJMC is a nonprofit, educational association of journalism and mass communication educators, students and media professionals whose aim is to promote the highest possible standards for journalism and mass communication education, to cultivate the widest possible range of communication research, to encourage the implementation of a multi-cultural society in the classroom and curriculum, and to defend and maintain freedom of communication in an effort to achieve better professional practice and a better informed public.
Visit the organization online.
Learn more about Rob Johnson in this previous story.
Back