"Local Diplomat" Linda Lyon '65 Profiled; Recalls "Incredible" College Experience
August 16, 2012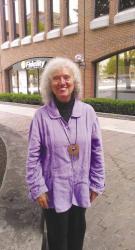 "Every child goes through stages of what they want to be when they grow up. Whether it is a firefighter, a police officer, a teacher or a movie star, the career always seems to change over time," begins a story in Maine's Kennebunk Post. "However, Linda Lyon of Kennebunk, who has been a staff member for U.S. Sen. Olympia Snowe since 1998, always knew she wanted to be in politics."
The article details how Lyon, a 1965 graduate of DePauw University, left teaching jobs in higher education for life as a public servant. Sen. Snowe is vacating her seat in early 2013, which means Lyon will be seeking a different path going forward.
Amber Carter writes, "After graduating from high school, Lyon got her Bachelor's degree in English at DePauw University, a small liberal arts college in Indiana. 'It was a great experience,' she said. 'The university was incredible.' "
She taught at Delta College and the

University of New England before becoming Snowe's -- in Carter's words -- "local diplomat. As a staff member, Lyon managed Snowe's casework, spoke with constituents who had issues with the federal government, took legislature comments to Snowe and made appearances in Snowe's stead."
Linda (Marks) Lyon, who majored in English composition at DePauw, tells the newspaper, "I was so glad to help people in her name. I was so glad to be able to work for someone I believed in. She works so hard. She wanted to get things done in this country. It has been an honor working for her. I have enjoyed the hard work that results in the outcome for Sen. Snowe's constituents."
You'll find the full story at the Post's website.
Back