Laura Ann Johnson '08 Stars in The Last Five Years
September 19, 2012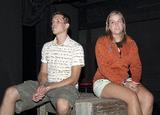 Laura Ann Johnson, a 2008 graduate of DePauw University, is the co-star of the Old Town Playhouse's production of the two-person musical, The Last Five Years. An article in the Record-Eagle of Traverse City, Michigan, features the show, which opened September 14 and continues through the 29th.
The musical "tells the bittersweet story of a young couple who wrestle with the disparity of separate dreams -- one as a writer, the other as an actor -- and of the eventual collapse of their marriage. Jamie (Joseph Shoup) traces the relationship from beginning to end, while Catherine (Johnson) traces it from end to beginning," writes Marta Helper Drahos. "The musical also is unusual
because of its two-person cast whose characters never exchange dialogue, said director Mychelle Hopkins. The only time audiences see them together is when their timelines intersect in the middle of the show." "It's almost like a recital or a set of songs that just happened to be staged and woven into a story," Johnson, who was an education studies major at DePauw, tells the newspaper.
The story notes, "A classically trained vocalist who minored in music at DePauw University, Johnson sings seven songs in the show, including a duet with Shoup. She said tapping into the musical theater voice was her biggest challenge."
You'll find the complete article at the Record-Eagle's website.
Back