Indy Star Previews Zionsville Event Featuring Prof. Eugene Gloria
October 1, 2012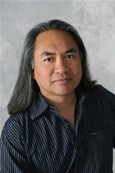 Eugene Gloria, associate professor of English at DePauw University, will present a reading Thursday at the Eagle Creek Coffee Company in Zionsville. "This month's Poetry on Brick Street featured poet is the author of three books of poems: My Favorite Warlord, Hoodlum Birds and Drivers at the Short-Time Motel," notes the Indianapolis Star. It adds, "He teaches creative writing and English literature at DePauw University in Greencastle."
The event begins at 6:30 p.m. Learn more here.
Learn more about Professor Gloria in this recent summary.
Back