Bill is Back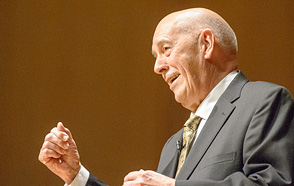 October 12, 2012
It's been a long time since ESPN founder Bill Rasmussen, a 1954 DePauw University graduate, made daily walks across campus. All he did between then and now was change television forever. Today, the sports pioneer is back at DePauw, sharing his experience with the aspiring broadcasters and entrepreneurs who will follow in his footsteps.
Rasmussen began a term as executive-in-residence at DePauw's Robert C. McDermond Center for Management & Entrepreneurship at the beginning of October. If his new title sounds vague, it's because there's no easy way to sum up the work he's doing.
So far, Rasmussen has spent most of his time out and about, participating in classes, consulting with student media and athletics committees, and meeting individually with members of DePauw's Management and Media Fellows programs.
"I get energy from the kids," he says. "They're excited to be here and part of the DePauw life. For me, it's a great opportunity."
A waiting list for one-on-one sessions with Rasmussen had already started to form one hour after they were announced, but freshman Patrick S. Felke, a Management Fellow, managed to slip in.
"Being able to meet with Bill Rasmussen obviously is something that very rarely presents itself," Felke says.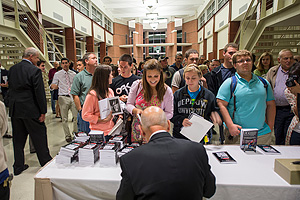 Felke, like many others, wanted to hear about ESPN and Rasmussen's career, but the focus of the conversation quickly turned back on him.
"We talked about the opportunities presented at DePauw and how important it is to simply get to know people," Felke says. "Everyone has an interesting story or connection, so the more people you meet and the more things you try will help lead you to where you want to go."
Junior Megan W. Crowley also met with Rasmussen. Crowley, a Media Fellow, hopes to work in sports marketing or broadcasting, but she knows how difficult it can be for a woman to break in to a male-dominated industry.
"I wanted to meet with Bill because I have known that I want to work in sports for a long time," Crowley says, "but I don't know what or where exactly. We discussed what I've done on campus and what I wanted to do in the future. He gave me lots of great advice about how a woman can succeed in the sports world."
One message Rasmussen shares with students about his career is that, when you look back at it, it's easy to pick out the highlights. He never had that vantage point as he worked his way up.
Most people know of Rasmussen for his role in creating the world's first all-sports cable television network, but that didn't happen until 1979, 25 years after he graduated from DePauw. By then, he'd served in the United States Air Force, covered sports for local radio and television stations, anchored a nightly newscast and even worked for a professional hockey team – the WHA's New England Whalers, who were admitted into the NHL as the Hartford Whalers the same year ESPN went on-air.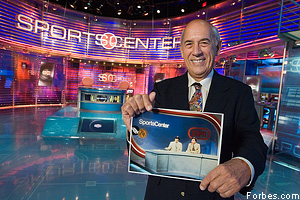 His first broadcasting job was at a small radio station in Westerly, R.I. When he applied for the job, he had no formal training as a sportscaster. What he did have was a love of sports and a lot of confidence.
When the station manager asked why he should hire a person without any experience, Rasmussen told him because he could do the job that was advertised. The manager liked his attitude.
Confidence also played a role in ESPN's founding. Younger generations who've grown up with the Worldwide Leader in Sports might find it hard to believe, but a 24/7 sports channel wasn't a slam dunk when Rasmussen first pitched the idea.
"People laughed," he remembers. "They said, 'Who's going to watch sports all day?' They misunderstood the whole message. Nobody's going to watch sports 24-hours a day. Nobody watched 18 hours of CBS or NBC, either."
"I emphasize to students that people are going to tell you no," he says. "The knee-jerk reaction to any new idea is, no, it's not going to work. The Wright brothers said, 'We're going to fly.' Well, nobody can fly, right? Only birds can fly. Well, guess what? Now we fly."
Back