Conference Presentation by Prof. Valarie Ziegler is Cited
November 22, 2012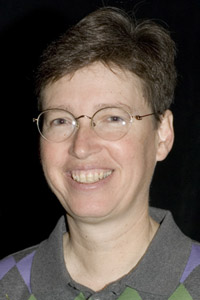 Writing of the recent annual joint conference of the American Academy of Religion and the Society of Biblical Literature, the Chronicle of Higher Education's Tom Bartlett offers "a sampling of the Bible-related presentation titles" and cites "Adam as Alpha Male: Genesis 1-3, Christian Domestic Discipline, and the Erotics of Wife Spanking."
That paper was presented at the conference by Valarie Ziegler, Walter E. Bundy Professor of Religious Studies at DePauw University, where she also holds the title of professor of religious studies and chairs the department. Dr. Ziegler's presentation uses material from her forthcoming book with Linda S. Schearing of Gonzaga University, Enticed by Eden: How Western Culture Uses, Confuses (and Sometimes Abuses) Adam and Eve. It is being published by Baylor University Press in February.
Access the Chronicle piece here, and learn more about the book at the publisher's website.
Professor Ziegler's book, Diva Julia: The Public Romance and Private Agony of Julia Ward Howe, won the inaugural Trinity Prize.
Back