Jeff Roth '08 Inducted Into HS Athletic Hall of Fame
September 25, 2012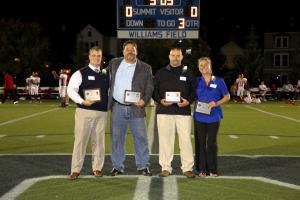 Jeff Roth, a 2008 graduate of DePauw University, has been inducted into the the Summit Country Day School Athletic Hall of Fame. Roth and three others were honored at halftime of a September 21 football game at the school, which is located in Cincinnati (Roth is at far left of accompanying photo).
A four-year starter on the Summit football team, Roth was an All-MVC honorable mention as a freshman and sophomore at the linebacker position and All-MVC First Team at tailback in his junior and senior campaigns. He was second team All-Cincinnati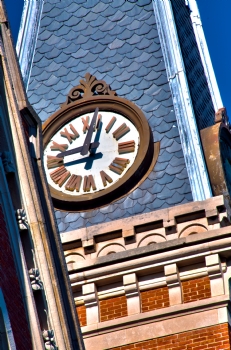 Metro in his junior season at tailback. Roth set the Summit career rushing record with 2,905 yards and was also a varsity letterman on the lacrosse team for three seasons. He was named to the Ohio All-State Lacrosse First Team as a defenseman his senior year. Roth went on to play for Centre College and DePauw University, where he majored in history and played fullback on the Tigers' Southern Collegiate Athletic Conference Co-championship team in 2005.
Roth returned to the Summit as head lacrosse coach at the middle school level from 2009-11.
Learn more here.
Back