"Americans Want Government to Work Better for Less," Lee Hamilton '52 Opines
December 24, 2012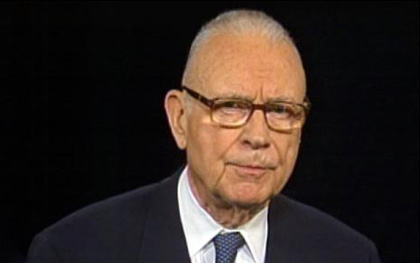 "We are locked in a seemingly permanent debate over the proper size and scope of government," observes Lee Hamilton in a newspaper op-ed. The former congressman and 1952 graduate of DePauw University adds, "I don't expect this argument to end anytime soon -- after all, it's been a feature of political life for as long as any of us can remember. But no matter how we view the role of government, there's one thing most of us do agree on: whatever government does, it should do it well."

A Democrat who served 34 years in the U.S. House of Representatives, Hamilton notes, "Recently, I read a compelling speech by a prominent corporate CEO who criticized the federal government for creating an environment of uncertainty and stifling the engines of market growth -- and then went on to lay out plans for economic renewal that all involved the government: a revamped education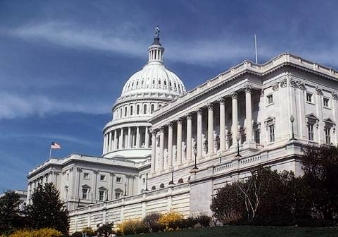 policy, more investment in infrastructure and in basic research, changes to the tax code to reward innovation. His speech underscores a basic truth about American life: we can argue about the fine points of its reach, but the importance of government's role in our lives is inescapable. This does not mean that government is the answer to everything -- far from it. Nor, however, does the anti-government rhetoric that so often marks our politics show much sign of being rooted in reality."

He stresses, "When we want to build roads and bridges, operate schools and keep our cities safe, create conditions under which businesses can thrive, respond to natural disasters or attacks on our security, we turn to government at some level. And we expect the people who run it -- the leaders as well as those on the front lines -- to be good at what they do. As Alexander Hamilton put it, 'A government ill-executed, whatever may be the theory, in practice is poor government.' "

Hamilton's column concludes, "My sense is that the public is demanding more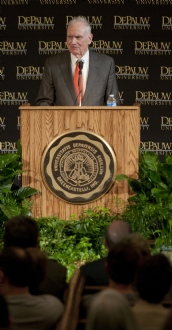 from government, not in size, but in performance. Americans want government to work better for less, and the only way to achieve this is for government to become more effective and productive in dealing with the challenges before us."
Read the full text at Kentucky's Richmond Register.
Lee H. Hamilton co-chaired the Iraq Study Group and 9/11 Commission and now directs the Center on Congress at Indiana University. He majored in history as an undergraduate and starred on the Tiger basketball team (and is a member of both the Indiana Basketball Hall of Fame and the DePauw Athletic Hall of Fame). The veteran statesman has been a frequent visitor to DePauw over the years, and delivered an Ubben Lecture on March 15, 2011.
The Indiana Society of Chicago Foundation honored Lee Hamilton as its "Hoosier of the Year" at the Society's 107th Annual Dinner on December 1. You'll find details in this story.
Back