A Continuing Commitment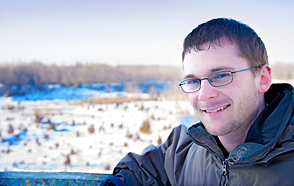 January 10, 2013
It was early 2008, and having just returned to their Greek house from a national conference on sustainability in Washington, D.C., Anthony M. Baratta '10 and his fraternity brother, Taylor Cantril '11, launched a full-on assault on the Phi Gamma Delta kitchenware.
"We went into our Greek house guns blazing," recalls Baratta, now assistant sustainability director at DePauw. "We told everybody that we needed to get rid of all our styrofoam cups – now."
Their demand was met with silence and a few sideways glances. One of the FIJI brothers pointed out that the fraternity was short on dishwashers. Maybe this could wait until next year?
The suggestion sent Baratta and Cantril into a near panic.
"We just looked at each other like, how are we going to save the world if we can't get rid of those cups?" Baratta says. "I think we were idealistic. But that's good. It's what freshmen should be."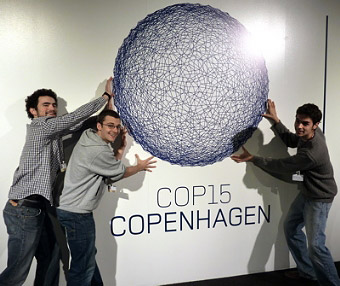 (Left: Baratta, middle, with Cantril, left, and Andrew P. Maddocks '11 at the Copenhagen Climate Change Conference in 2009.)
Baratta may not feel as idealistic as he once was, but not because he gave up. In retrospect, he was remarkably effective. Many of his student ventures are now firmly a part of the DePauw experience. Baratta was a founding member of Energy Wars, the yearly campus conservation challenge, and the DePauw Environmental Policy Project (DEPP), a student-led program that provides research-backed testimony to the Indiana state legislature.
And you could even say that he had a hand in creating his current job.
The story goes something like this: in 2008, when Brian W. Casey was selected president of DePauw University, a campus reception was held so that students and faculty members could meet him. At the reception, Baratta approached Casey and spoke with him briefly about why he should sign the American College & University Presidents' Climate Commitment (PCC), an agreement to lower carbon emissions that other colleges had already joined. Casey handed Baratta his Harvard University business card – as Baratta tells it, his last one – and asked the freshman to stay in touch on the issue. It was the first of many interactions on the subject between advocates of the PCC and the new president. On Sept. 15, just two months after taking office, Casey added his signature to the PCC.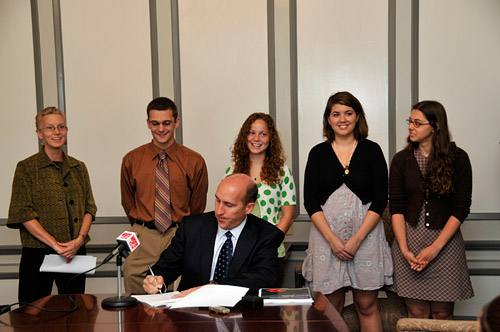 To remain in compliance with the PCC, DePauw was required to conduct an analysis of its carbon footprint and to develop a plan to move the University toward carbon neutrality. These projects eventually became too burdensome for Sustainability Director Carol S. Steele and her team of student interns, necessitating an additional full-time position in the Office for Sustainability.
Last year, Baratta became the third recent graduate to serve as assistant sustainability director – a title he inherited from Cantril, his anti-styrofoam co-conspirator. As it so happens, thanks to the PCC, some of the hardest work was already behind him.
"I'm starting to appreciate how much it matters that we have a greenhouse-gas inventory and a Climate Action Plan," Baratta says. "There are several other Indiana colleges working on sustainability without the framework of the PCC, and they lack some of the institutional support we have at DePauw. I would say we're ahead of the game because of it."
Baratta now has a rare opportunity not only to continue what he began as a freshman years ago, but also to develop some of the ambitious ideas from the current generation of DePauw students.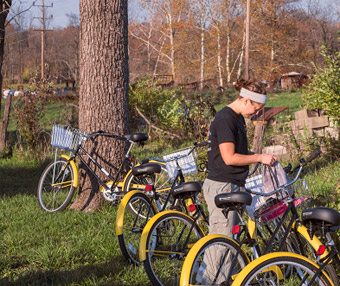 Launched in the fall, the community bike program, a collaboration between the Office for Sustainability and members of the Management Fellows Program, offers 20 bicycles to students and community members for traveling on- and off-campus. One place these bikes may take people is the new campus farm, located near the DePauw Nature Park , which begins its first season of planting this spring. Championed by students Ashley M. Conard '14 and Stephen G. Hesterberg '13 and financed with support from members of DePauw's Board of Trustees, the farm will be used to teach sustainable agriculture and provide fresh produce for campus dining and the Greencastle community.
"One of the key things we do in our office is look for institutional ways for DePauw to commit to sustainability," Baratta says. "It's perfect and necessary that students and the University are driving these projects together. Students are coming here, and they're learning how to change the world."
"I'm so excited to see this program develop," Baratta adds, facing a longer stay at DePauw than he imagined six years ago. "This truly is a dream job."
Back