Former Congressman Lee Hamilton '52 Named Professor of Practice at IU's SPEA
February 5, 2013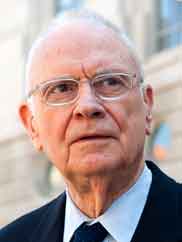 Lee H. Hamilton, a 1952 DePauw University graduate who served 34 years in the U.S. House of Representatives, has been appointed a Professor of Practice at Indiana University's School of Public and Environmental Affairs (SPEA). In that role, notes an announcement, "Hamilton will lead classes at SPEA and have more formalized interaction with students and faculty. Hamilton, 81, will also be assuming new duties as a Distinguished Scholar at IU's new School of Global and International Studies."
According to IU President Michael M. McRobbie, "He will serve as an enormous asset for our students as well as our faculty studying all aspects of international affairs and foreign policy, as well as for IU, as a whole, as we seek to continue to grow and strengthen our presence around the globe."
"I'm going to have to learn what it means to be a Professor of Practice but what I know already is that this will give me more opportunities to work with SPEA's talented faculty and its bright and civic-minded students," says Hamilton. "I'm really looking forward to that."
Lee Hamilton represented Indiana's ninth district in Congress from January 1965 to January 1999. During that time he served chairman and ranking member of the House Committee on Foreign Affairs. He also chaired the Permanent Select Committee on Intelligence and the Select Committee to Investigate Covert Arms Transactions with Iran. The Democrat established himself as a leading congressional voice on foreign affairs, with particular interests in promoting democracy and market reform in the former Soviet Union and Eastern Europe, promoting peace and stability in the Middle East, expanding U.S. markets and trade overseas, and overhauling U.S. export and foreign aid policies. His tenure in Congress coincided with many significant historical events, including the fall of the Berlin Wall, the Arab/Israeli peace negotiations, and the 1991 Persian Gulf War.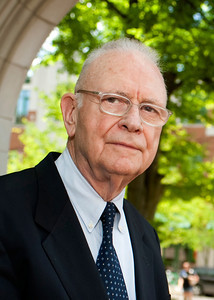 Hamilton also has been a leading figure on economic policy and congressional organization. He was chairman of the Joint Economic Committee, working to promote long-term economic growth and development, global market competition, and a sound fiscal policy. As chairman of the Joint Committee on the Organization of Congress and a member of the House Standards of Official Conduct Committee, he was a primary draftsman of several House ethics reforms, and he worked to promote integrity and efficiency in Congress.
After retiring from Congress, Hamilton became president and director of the Woodrow Wilson International Center for Scholars in Washington, D.C. He served as vice chair of the 9/11 Commission and Iraq Study Group and was appointed to a number of other commissions. He is director of the Center on Congress at Indiana University, a non-partisan institution seeking to improve the public's understanding of Congress and to inspire young people and adults to take an active part in revitalizing representative government in America.
"Lee Hamilton will help our students understand how the U.S. government works, how the world works and how both can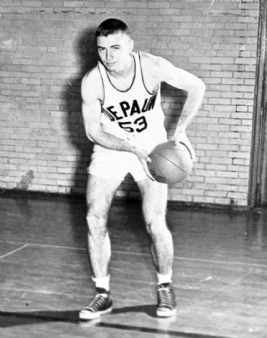 work better," says David Reingold, executive associate dean of SPEA. "As he was for decades, Lee remains a powerful and respected figure in Washington and in foreign capitals. His keen knowledge and gentle sense of humor and his desire to teach and advise our students will serve SPEA well."
Lee Hamilton majored in history as an undergraduate and starred on the Tiger basketball team (and is a member of both the Indiana Basketball Hall of Fame and the DePauw Athletic Hall of Fame). The veteran statesman has been a frequent visitor to DePauw over the years, and delivered an Ubben Lecture on March 15, 2011.
Back