Prof. William Cockrum '59 Elected to Educational Housing Services Board
March 3, 2013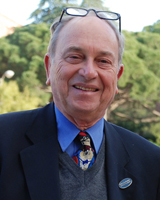 William Cockrum III, adjunct professor at the Anderson Graduate School of Management of UCLA (the University of California at Los Angeles) and 1959 graduate of DePauw University, has been elected to the board of directors of Educational Housing Services, Inc. EHS is a not-for-profit organization that has provided safe and convenient off-campus housing in New York City for college students and interns since 1987. The organization works with many academic institutions and corporations to provide housing for over 10,000 students and interns annually, and also leases to individual students.
Bill Cockrum "is recognized nationally and internationally for his courses in Finance, Ethical Leadership in Management, and Venture Capital," notes an announcement. "In the United Kingdom, he is a visiting professor at both Warwick University and Cranfield University. Previously, he has served as vice chairman of the major-bracket investment banking firm Becker Paribas Incorporated (now part of Merrill Lynch/Bank of America). Also, he has served on the board of directors of 16 public and private corporations. Over the last two decades he has been retained by over 20 law firms nationwide to testify as an expert
witness in proceedings relating to securities trading and corporate policies, practices and values. Professor Cockrum has advised on governance and executive compensation matters to many public and privates companies and not-for-profits organizations."
You'll find more details here.
Recognized as the top entrepreneurial professor in the nation in a survey conducted by Business Week in 1996, Cockrum was a Rector Scholar and economics major at DePauw. He earned an M.B.A. from Harvard University.
Back