Julie Underwood '76 to Discuss 'The Privatization of Education' in Wisconsin Presentation
March 13, 2013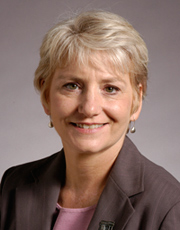 Julie K. Underwood, dean of the School of Education of the University of Wisconsin-Madison and 1976 graduate of DePauw University, will discuss "The Privatization of Education" in a March 21 presentation at the Racine Marriott Hotel. The program, which is free and open to the public, is previewed in the Racine Journal Times. "Underwood will explore four challenges of privatization of education in America, and what they mean for the future of public education in this country," it reports.
The newspaper notes that Dr. Underwood "is a nationally recognized authority on school law. She holds a bachelor's degree in political science and sociology from DePauw University, a law degree from Indiana University and a Ph.D. in educational leadership from the University of Florida. Underwood previously served as dean of the School of Education and Allied Professions at Miami University and as the associate executive
director and general counsel for the National School Boards Association in Washington, D.C."
Read more at the paper's website.
Also available is this previous story.
Back