David Hoover, Teaching in India, is 2013 Winner of Battey National Educator of the Year Award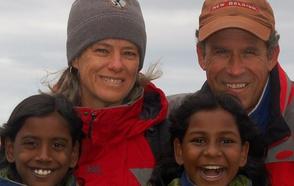 April 8, 2013
David Hoover, a teacher of high school biology, chemistry and environmental science at the American Embassy School in New Delhi, India, is the 2013 winner of the Battey National Educator of the Year Award. Presented by DePauw University's Honor Scholar Program, the Battey Award recognizes a teacher who inspired a current DePauw Honor Scholar while that student was attending high school. Hoover (pictured at right with his family) was nominated by K. Kartik Amarnath, a DePauw senior.
As the recipient of the Battey National Educator Award, Hoover will get a $7,500 honorarium and a $1,500 grant for the American Embassy School to be applied, with suggestions from the winner, to programs at the school.
Born in Boston, Hoover earned a B.S. in biology from Hobart College in New York, and an M.A. in that subject from the State University of New York (SUNY), Binghamton.
Five years later, Hoover began teaching in international schools, first at the American School of Kinshasa in Zaire. After being evacuated from that country in the midst of civil unrest in October 1991, Hoover returned to California to teach for one semester at the Buckley School in North Hollywood. He then joined the faculty of the International School of Bangkok, and worked in Thailand from 1992-95. Since then he has taught at the American Embassy School in New Delhi. Founded in 1952, it is an independent, co-educational day school which offers an educational program from pre-kindergarten (Early Childhood Education) through grade 12.
"As a student at Hobart and SUNY Binghamton, I did not intend to teach. During those years, I simply enjoyed biology and I wanted to get as much as I could. I let my passion for the subject pull me along, rather than an intended career," Hoover notes.
"I fell into teaching when I moved to southern California to be with Marion Proud, my future wife," notes Hoover. "She had started a graduate program at USC, just as I was finishing my degree at SUNY Binghamton. Harvard School for Boys (now Harvard-Westlake) hired me and the world of teaching opened."
He adds, "I feel lucky to have worked with many talented students over 18 years in New Delhi. I feel lucky that one of them thought enough of me to nominate me for the Battey Award. I'm overwhelmed, humbled and flattered with the thought of receiving the Battey Award in 2013."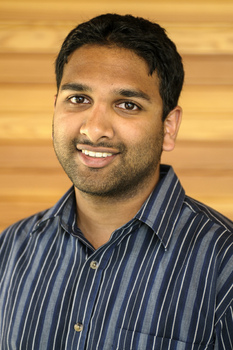 "Mr. Hoover modeled his teaching practices around the realities of educating students from over 40 countries who found themselves in India," wrote Amarnath in his letter of nomination. A biology major at DePauw, with minors in anthropology and philosophy, Amarnath noted, "For students from a variety of backgrounds and worldviews, Mr. Hoover taught biology in a way that communicated essential truths that went beyond cultural differences that all students could carry with them for the rest of their lives. Most important was his lesson in the important role of context when it came to the learning experience. For Mr. Hoover, the context in which the lesson was taking place was as important as the material itself, for one ultimately defined competence in the other. This lesson is something I have carried with me to DePauw and my Honor Scholar thesis, which is grounded in the theoretical knowledge I gain in the classroom to the personal experiences working in a slum community in Chennai, India."
The senior states, "Many view teaching as a profession while Mr. Hoover saw teaching as a lifestyle. From his example, I have learned to embrace a life of learning not as a stepping stone to achieving employment or status, but as an ongoing process that informs one's passions, emotions and actions -- for it is these characteristics of the human condition that ultimately change the world."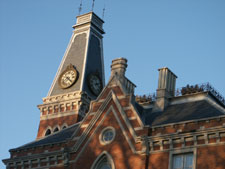 John Shea, the high school principal at the American Embassy School, declares, "Mr. Hoover's students love him -- and, more often than not, they also love science because of him. They certainly love learning because of him ... He is an absolute treasure here in our community."
A gift by Charles and Joan (Westmen) Battey created the endowment which funds the award, which was first presented in 2008. Mrs. Battey is a 1954 graduate of DePauw. Previous winners are: Gregory Lewis (2008), Andrew Goodwin (2009), Bruce R. Myers (2010), Stephanie Nagelkirk (2011), and Perry Keil Thapa (2012).
Back