Brother of David Joeckel '10 Could Be #1 Pick in 2013 NFL Draft
April 24, 2013
With the NFL draft set for tomorrow, Yahoo! Sports offers, "Every year, many players join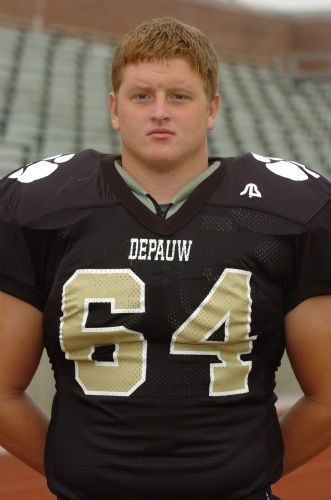 the National Football League from families rich in athletic tradition. Here is a sampling of draft prospects who had family members compete at either the collegiate or professional level in the world of sports."
Of Luke Joeckel, the standout offensive lineman from Texas A&M, the piece notes, "Twin brother, Matt, is a sophomore quarterback at Texas A&M. Brother, David, played on the offensive line at DePauw (2006-09). Father, now a trial lawyer in Fort Worth, was a four-year letterman and three-year starter as an offensive lineman at Texas Tech from 1979-82. Grandfather, Reece Washington, played tight end for Texas Tech."
You'll find the article here.
David Joeckel (pictured at top), a 2010 graduate of DePauw, was a captain of the Tiger football team and majored in economics. He was named to the D3football.com All-Region team in 2009.
Prognosticators predict Luke Joeckel could be this year's #1 overall pick in the NFL draft. He won the Outland Trophy and was a consensus All-American in 2012
Back