Student Journalists Honored with Seven Regional 'Mark of Excellence' Awards
April 29, 2013
DePauw University student journalists are the recipients of seven 2012 Society of Professional Journalists Region 5 Mark of Excellence Awards. Presented over the weekend in St. Louis, the Mark of Excellence Awards honor the best of collegiate journalism from a calendar year. SPJ's Region 5 comprises Illinois, Indiana and Kentucky. First-place winners advance to the national Mark of Excellence competition where the 12 SPJ regions will be represented.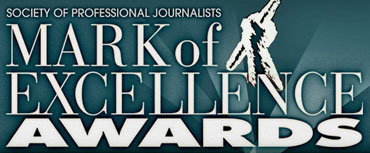 Six of the winning entries were published by The DePauw, Indiana's oldest college newspaper, and included three first place citations. Student radio station WGRE received one Mark of Excellence Award.
In the newspaper competition, The DePauw competed in the "small college" division, composed of institutions with fewer than 5,000 students. Its winning entries were:
Breaking News Reporting -

First Place

: Joseph Fanelli, Chase Hall & Ellen Kobe.
General News Reporting -

First Place

: Matthew Cecil;

Second Place

: Chase G. Hall.
Editorial Writing -

First Place

: Editorial Board of The DePauw.
In-Depth Reporting -

Second Place

: Joseph Fanelli.
Sports Writing -

Third Place

: Michael Appelgate.
There is only one division for radio entries. WGRE competed against radio journalists from colleges of all sizes, including Indiana University, Northwestern University and Chicago's Loyola University. WGRE's winning entry was:
Radio In-Depth Reporting -

Third Place

: Ellen Kobe, Jim Perry, Caitlin Hutchinson & Jim Easterhouse.
Access a complete list of winners here.
Recognizing and promoting journalistic excellence has been a key purpose of the Society of Professional Journalists since it was founded in 1909 by students at DePauw University as Sigma Delta Chi, a journalism honor society.
Earlier this month, The DePauw collected ten "Best of the Best in Indiana" awards -- including 5 first-place citations -- from the Society of Professional Journalists. DePauw's student newspaper also won a total of 26 awards -- including twelve first place honors and recognition as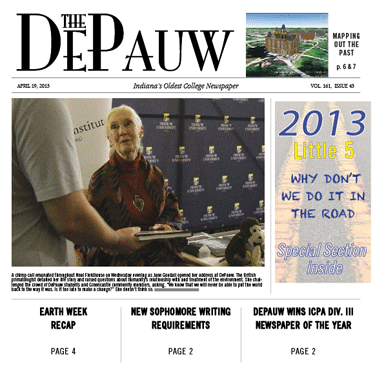 Division III Newspaper of the Year -- at the Indiana Collegiate Press Association's annual awards program.
WGRE won three awards, including one for first place, in the 2013 Indiana Associated Press Broadcasters Contest.
Founded in 1852 as Asbury Notes, The DePauw has a rich tradition of being the springboard for the careers of many of America's great journalists. The paper is completely independent, and staffed and managed entirely by students.
One of America's first non-commercial, educational stations, WGRE signed on the air on April 28, 1949 and today broadcasts 24 hours a day when school is in session.
Back