Mark Fadel is 2013 Walker Cup Recipient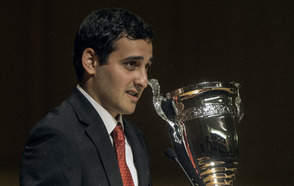 April 29, 2013
DePauw University senior Mark A. Fadel was honored tonight as the 2013 recipient of the Walker Cup. Awarded to the senior who has contributed the most to the DePauw community during his or her four years on campus, the Walker Cup was presented to Fadel by President Brian W. Casey at DePauw's Academic Awards Convocation, which took place in the Green Center for the Performing Arts' Kresge Auditorium.
Fadel, who hails from Cleveland, Ohio, was student body president and valdictorian of his class in high school. At DePauw, he's majored in biochemistry and is executive vice president of DePauw Student Government, a First-Year Mentor and a Presidential Ambassador. The senior teaches science one day a week to fourth graders at Tzouanakis Intermediate School in Greencastle. Fadel used his science background to complete a drug research project for Putnam County Hospital and worked on a biochemistry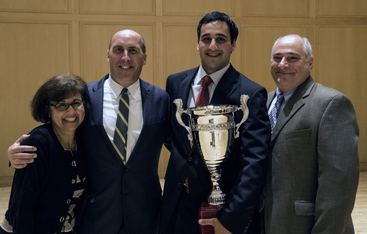 project at DePauw in collaboration with Ohio State University's Jackman Laboratory.
Fadel has been a member of the men's swim team at DePauw and served as a volunteer student coach. He's also been a swim instructor for local children. As a freshman, Fadel established a chapter of Up 'til Dawn, a St. Jude Children's Research Hospital program, that has raised more than $28,000 since September 2010.
Arezoo Nazari and Sara K. Scully were the other finalists for the Walker Cup. The president noted that the three are very close friends and great ambassadors for DePauw.
"Mark is one of the most emotionally generous people I have ever met," said Dr. Casey before presenting the Walker Cup to Fadel. "Mark scans the world around him and makes sure that everyone is okay, that everyone is being heard and that everyone has a part to play."
As a result of winning the Walker Cup, Fadel will speak on behalf of the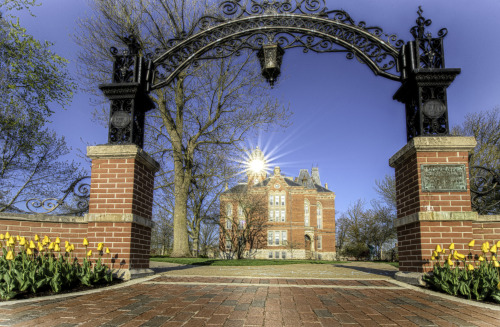 senior class at DePauw's commencement on Sunday, May 19, at 10:30 a.m. in Holton Memorial Quadrangle. After graduation, Fadel will continue his studies at the University of Toledo College of Medicine.
A complete listing of all of the awards presented at the convocation can be found here.
Back