"LaSalle Street Standout" Kareem Edwards '07 Among '20 in Their 20s'
May 9, 2013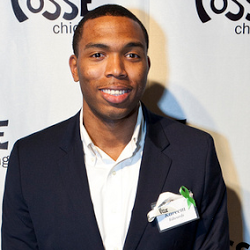 "The LaSalle Street Standout" is how Crain's Chicago Business refers to Kareem J. Edwards. A 2007 graduate of DePauw and former assistant vice president at Bank of America Merrill Lynch, Edwards is featured as one of the publication's "Generation Next: 20 in Their 20s."
"The up-and-comers selected for this list represent some of the more admirable traits also attributed to their cohort: confidence in their own abilities, commitment to social causes and civic issues, entrepreneurial spirit and a willingness to embrace change," note the editors. "Unlike honorees on Crain's longstanding '40 Under 40' list, the young people profiled here may not have reached the pinnacle of their fields just yet. But they started making their mark on Chicago's business and cultural scene during one of the most challenging times in living memory, as the global economy slid into recession."
The profile of Edwards states, "At a relatively early age, Kareem Edwards has an enviable financial industry resume, including work at Barclays Capital and Bank of America Merrill Lynch, where he coordinated a team overseeing the bank's credit business compliance with the 2010 Dodd-Frank Wall Street Reform and Consumer Protection Act. He hasn't confined his contributions to his cubicle, though: He's keeping up a personal campaign to advance the careers of young African-Americans by leading the 'Suit Dreams' mentoring program in Chicago and winning the Bank of America Merrill Lynch volunteer service
award. He'll commute to Ann Arbor, Mich., for a two-year University of Michigan M.B.A. program starting this fall on a full scholarship, hoping to stay in Chicago and combine his passion for solving complex problems and helping underserved communities after he exits."
Read more here.
A mathematics major at DePauw, Kareem Edwards was also a Bonner Scholar and Posse Scholar. In a 2007 interview with WNYC/New York Public Radio, he declared, "Posse saved my life."
Back