Chuck Brooks '79 to Judge 2013 Border Security Awards
February 26, 2013

Chuck Brooks, vice president and client executive for the Department of Homeland Security at Xerox and 1979 graduate of DePauw University, will serve as lead judge for the 2013 Border Security Awards Program, presented by Government Security News magazine. The awards program was created to salute three groups in the border security field. Winners will be announced next month.
"It would be very hard to find a more qualified person than Chuck Brooks for the job," says Jacob Goodwin, editor-in-chief of GSN. "He's been a high-ranking government insider in the Department of Homeland Security and VP of R&D at Rapiscan Systems, a leader in explosives detection, as well as other border security assignments."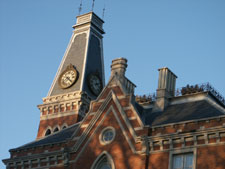 An announcement notes, "Brooks is former adjunct faculty at Johns Hopkins University's Paul H. Nitze School of Advanced International Studies where he taught a graduate level course on 'Congress and Homeland Security.' He also has an M.A. in international relations from the University of Chicago and a B.A. in political science from DePauw University ... In addition to his many other credentials, Brooks served as the first director of legislative affairs for the Science and Technology Directorate of the Department of Homeland Security. He also served six years as a defense and foreign advisor to the late Senator Arlen Specter."
Read more here.
Back