Nick Mourouzis Inducted Into Wabash Valley Football Coaches Association Hall of Fame
June 24, 2013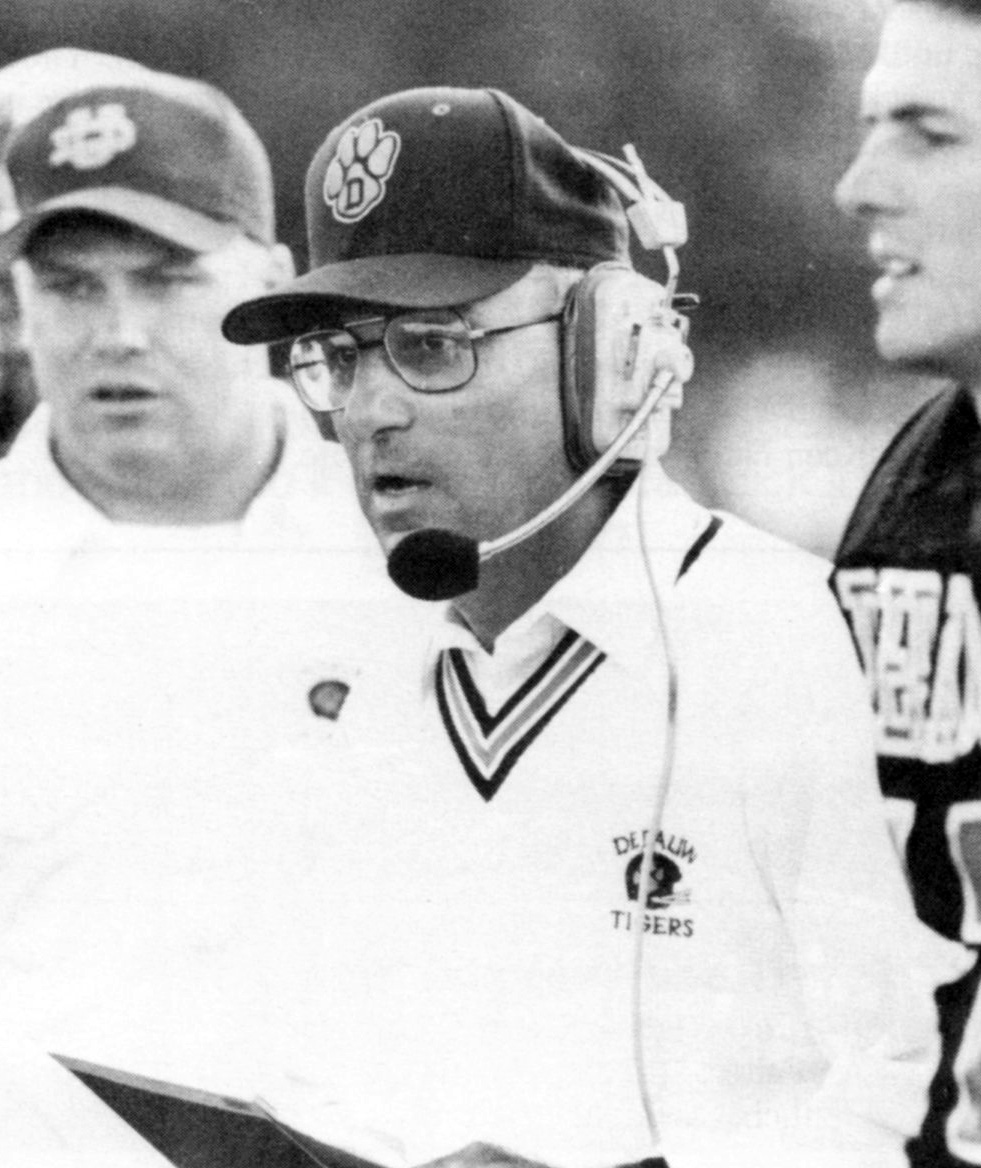 Nick Mourouzis, who led the DePauw University football program from 1981 through 2003 and is the college's all-time winningest football coach, has been inducted into the Wabash Valley Football Coaches Association Hall of Fame. Mourouzis and fellow 2013 honorees David "Pudge" Bennett and Dick Ranard were inducted June 15 were introduced at halftime of Saturday's Wabash Valley Football Coaches Assocation All-Star game in Terre Haute. (photo: Mourouzis on the Tiger sideline in 1993)
"Mourouzis coached 45 years, retiring in 2003 after 23 seasons at DePauw as the Tigers' winningest coach ever," notes the Terre Haute Tribune-Star. "He played for John Pont at Miami of Ohio and was an assistant coach at Ohio University, Ball State, Indiana and Northwestern before compiling a 133-82-4 record at DePauw."
Mourouzis, professor emeritus of kinesiology at DePauw, is also a member of the Indiana Football Hall of Fame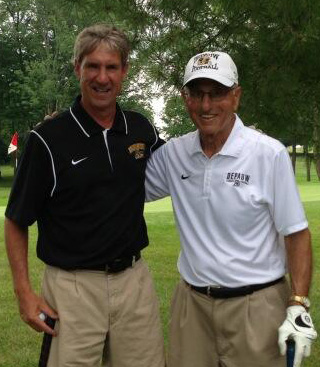 and Miami University's "Cradle of Coaches" and received the 2010 "Spirit of the Monon Bell" award. In 1996, he founded Chi Alpha Sigma, the nation's first collegiate scholar-athlete honor society. (photo: current head coach Bill Lynch and Mourouzis at today's Dave Galle '87 Memorial Golf Classic in Columbus, Indiana)
In 2004, "Coach Nick" was selected by students to deliver the commencement address to graduating seniors. "If you have passion and pride for what you do, you will always love your life's work," he said. "I always told my players that if you find a job or a career that you like so well like it's a hobby to you, then you'll never have to work a day in your life."
The speech is summarized here. Video of the address is embedded below.
Back