DePauw Takes the Stage at IndyFringe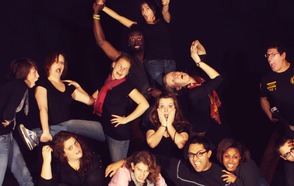 August 20, 2013
IndyFringe attracts actors, writers and directors from all over the country, and this year a record number are from DePauw, including students, faculty, staff and alumni. As described on the Indianapolis Theatre Fringe Festival's website, IndyFringe is "… a riotous celebration of theatre old and new, edgy and not-so edgy, that happens for 11 days every August in the Mass Ave Cultural District in downtown Indianapolis." The Festival runs from Aug. 15-25, 2013. For a complete schedule of events, visit the IndyFringe website.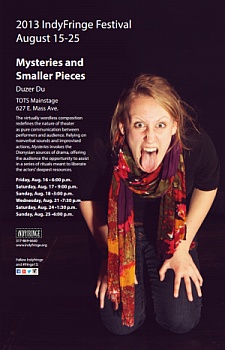 The 2013 IndyFringe production of Mysteries ... and Smaller Pieces is a revival of a 2012 DePauw Theatre production. It is a collective creation by The Living Theatre that changed theatrical history. The company consists of Alex Diaz '13, Tim Good, associate professor of communication and theatre, Carter D. Gorman '14, Kate M. Grimm '15, Claire A. Hatton '16, Alison A. Howard '16, Sashell C. Hunninghan '16, Grace M. Lazarz '15, Laura A. Loy '16, Ben J. Ramos '15, Meredith S. Reed '14, Mackenzie Travers '10, Andre R. Williams '15 and Kay L. Wood '15.
Mysteries … and Smaller Pieces is a significant work because it was the first play to be presented on the world's major stages without fictional characters, plot, scenery or costumes. The virtually wordless composition redefines the nature of theater as pure communication between performers and audience. Relying on nonverbal sounds and improvised actions, Mysteries … and Smaller Pieces invokes the Dionysian sources of drama, offering the audience an opportunity to assist in a series of rituals meant to liberate the actor's deepest resources.
In addition to the IndyFringe dates, the play will be performed on Aug. 30 and 31 at 7:30 p.m. in Kerr Theatre in the Judson and Joyce Green Center for the Performing Arts.
(Selections from) The Complete Works of Shakespeare (Abridged) features Chris Burton '09, Jacqueline Renae Keyes '11 and Steven Linville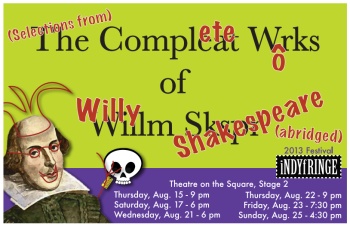 '06, executive assistant to the Dean of the DePauw School of Music, who have each appeared in recent Indy productions at the IndyFringe Theatre, Phoenix Theatre and Intimate Opera of Indianapolis. Performances are Aug. 21-23 and 25.
The IndyFringe website summarizes it this way: "1122 characters. 37 plays. 3 actors. All the world's a stage and ours overfloweth with cross-dressing, rap, and [insert witty comment]. This is not dry, boring Shakespeare. We'll do it fast, hard, upside-down and backwards."
Julie Strauser '16 and Amy Elaine Hayes '05, founder of Intimate Opera of Indianapolis perform in The Witch of the Place, featuring Dominick Argento's Miss Havisham's Wedding Night, based on Great Expectations by Charles Dickens, with piano accompaniment from DePauw faculty member Amanda Hopson, part-time assistant professor of music, vocal coach, senior staff accompanist and coordinator of keyboard studies. For more ticket information, click here.
Will Pfaffenberger '04, producer of Three Dollar Bill Comedy, will perform We May Very Well Be Sued: A Dalt Wisney Tribute. The IndyFringe website summarizes the show: "Indy's satirical sketch folk swirl you to a land where princesses are not-so-thin, mermaids are hoarders and a Beauty gets catfished by a Humpback using a picture of a streetrat named Alabbin. It's the ultimate send-up of everyone's favorite mouse, mogul and cookie-cutter/racially-stereotyped-sidekick/dead-parent storyline. It's parody. Please, don't sue us." For more information and to purchase tickets, click here.
Lukas Schooler '09, director of outreach and development for NoExit Performance, will perform in The Beast, The Lady and The Sanguine Man. For performance dates, click here.
Following IndyFringe, on Sept. 6-7, 13-14 and 20-21 at the IndyFringe Basile Theatre, Thaw features DePauw faculty members and Olivia Carmel '13.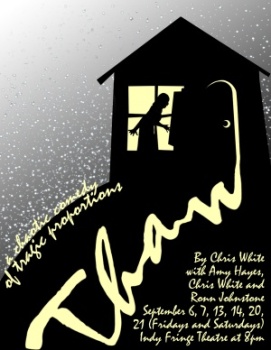 Written by Chris White, associate professor of English, and directed by M. Susan Anthony, associate professor of communication and theatre, Thaw stars White and Amy Hayes, part-time assistant professor of communication and theatre. Carmel is stage manager for the production.
White describes the plot: "Two women in a cabin with the best of intentions: to give birth naturally. But the temperature is plunging, the banter is more than anyone can bear, and chaos is about to strike. Is it just another sticky domestic drama? And who's in control when you're alone in the dark?"
For more information, visit the following Facebook pages:
Mysteries … and Smaller Pieces
(Selections from) The Complete Works of Shakespeare (Abridged)
We May Very Well Be Sued: A Dalt Wisney Tribute
Professor Chris White recently wrote and directed a short film. Mud Lotus will premiere on campus Nov. 7 during ArtsFest 2013: Art & the Quest. Read more about her work in this article.
Back