Bill Rasmussen '54 to Address UT-Arlington's Maverick Speakers Series
August 22, 2013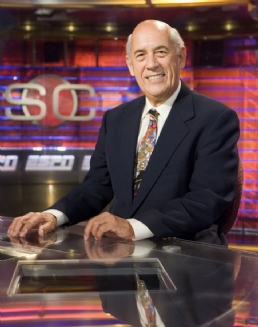 Bill Rasmussen, founder of ESPN and 1954 graduate of DePauw University, will be among five distinguished individuals who will address the University of Texas at Arlington's 2013-14 Maverick Speakers Series. Rasmussen is scheduled to visit the campus Thursday, October 24. Other guests will include CNN's Anderson Cooper and NPR legal affairs correspondent Nina Totenberg.
"Bill Rasmussen changed the face of sports and television when he founded ESPN in the summer of 1978," notes an announcement. "The legendary entrepreneur and business advisor's innovations in advertising, sports and broadcast are numerous and include not only ESPN, but also the concept for SportsCenter, wall-to-wall coverage of NCAA regular season and 'March Madness' college basketball, and coverage of the College World Series. He holds a degree in economics from DePauw University and served in the U.S. Air Force before beginning his professional career working for Westinghouse in sales and marketing. He later earned his master's degree in business administration from Rutgers University."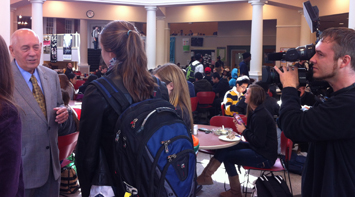 Read more at Yahoo! News.
On October 4, 2012, Bill Rasmussen delivered a 175th Anniversary Distinguished Alumni Lecture in DePauw's Kresge Auditorium. During a two week stint as "executive-in-residence," Rasmussen also visited classes, met with students, was interviewed on TV's Inside Indiana Business and was inducted into the DePauw Media Wall of Fame. (at left: Rasmussem chatting with DePauw students in the Hub last fall)
Back