The Rocky Horror Show Opens DePauw Theatre Season, October 3-12
September 21, 2013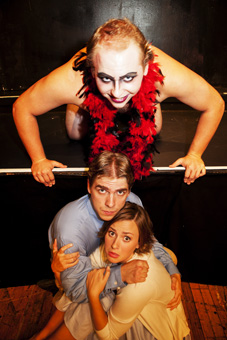 The Tony Award-winning musical, The Rocky Horror Show, makes a celebratory return to the DePauw University campus in October to open the 2013-14 DePauw Theatre Season. A cult classic, this show is sure to entertain old fans and audiences new to the fun. With humorous and catchy music and iconic characters, The Rocky Horror Show -- which was previously presented at DePauw in 2005 -- has captivated audiences for nearly 40 years.
Richard O'Brien wrote Rocky Horror as an homage to old science-fiction horror films and classic '50s rock. Every scene in the show is a campy tribute to the unintentionally hilarious scenes in B movies of older days.
After experiencing a flat tire on the way to meet an old friend, musical protagonists and engaged couple Brad and Janet are forced to look for help and shelter from the rain. Their only option is a castle referred to as "the Frankenstein place." The dark castle is seen as a place of refuge and light, ironically welcoming them in at their time of need.
The fun escalates when Brad and Janet meet "sweet transvestite" Dr. Frank N. Furter -- a role made infamous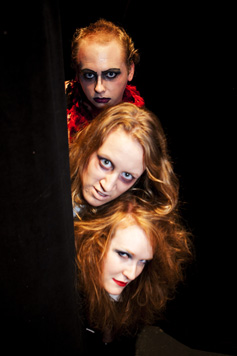 by Tim Curry's depiction in the 1975 film The Rocky Horror Picture Show. Dr. Furter is not only a great encourager of promiscuity and sexual freedom but also a mad scientist. Furter's master creation is his perfect man: reminiscent of Frankenstein, but much more attractive, monster muscle man Rocky comes to life on stage.
Opening night for The Rocky Horror Show is Thursday, Oct. 3 at 7:30 p.m. in the Judson and Joyce Green Center for Performing Arts. Performances continue on Oct. 4, 5, 11 and 12 at 10:30 p.m. Tickets are available at www.brownpapertickets.com/event/458820. Prices are $3 for students and $6 for adults.
This show contains sexually explicit material that may not be appropriate for all audiences.
For more information DePauw Theatre, click here.
Back