Inaction of Congress Following NSA Revelations "Astounding" to Lee Hamilton '52
October 5, 2013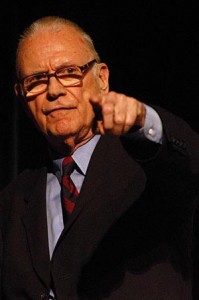 "Washington is beginning to debate the proper extent of government eavesdropping powers in the wake of Edward Snowden's revelations about the NSA. It's hardly as robust a discussion as it should be, but it's a desperately needed start," according to Lee Hamilton, the 1952 DePauw University graduate who served 34 years in the U.S. House of Representatives.
In an op-ed published in multiple newspapers, Hamilton observes, "The colossal effort to monitor Americans' communications has been going on for at least seven years, under two presidents. It constitutes an expansion of government power without precedent in the modern era. Yet while some members of Congress were informed about it -- and all had the opportunity to learn -- none saw an urgent need for public discussion. This is astounding. It took the actions of a leaker to spur any real airing of the matter on Capitol Hill."
He continues, "Even now, it seems unlikely that Congress will make significant policy changes. That's because all the nation's key actors and institutions appear to approve of the surveillance programs. By its silence, Congress clearly supported them. Presidents Bush and Obama backed them. The intelligence community, a powerful voice on national security issues, has resolutely defended them. The courts that are supposed to keep them in line with the Constitution have
been deferential to national security authorities, raising a few questions from time to time, but in the end approving all but a handful of tens of thousands of data-gathering requests.And the American people, by their lack of widespread outrage, have signaled that in this one case, at least, they believe the government can be trusted to keep us safe." (at left: Hamilton talks with DePauw student journalists)
Hamilton sees the inaction by Congress as a missed opportunity with serious consequences. "It's unlikely that genie can ever again be forced back into its bottle," he writes. "Here's the problem: once given power, the government rarely yields it. So you have to think not only about its present use, but how it will be used a decade or even more from now. Even if you concede that the current administration and its intelligence leadership have been responsible stewards of the powers they've been given -- and I don't -- that is no guarantee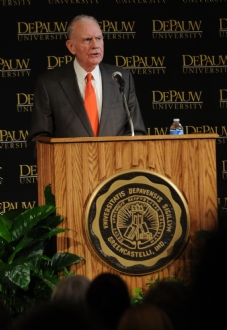 that the people who follow them, or the people who come after that, will be equally trustworthy."
He adds, "There is no place for the timidity Congress has shown so far on these issues ... Americans should demand action to strike a better balance between privacy and security."
Access the complete essay at the Post-Journal of Jamestown, New York.
Now director of the Center on Congress at Indiana University, Lee H. Hamilton has remained active following his retirement from Congress, serving as vice chair of the 9/11 Commission and Iraq Study Group. He has authored Strengthening Congress; How Congress Works and Why You Should Care; and A Creative Tension: The Foreign Policy Roles of the President and Congress.
A history major and basketball standout as an undergraduate, Hamilton has been a frequent visitor to DePauw over the years and delivered an Ubben Lecture on March 15, 2011.
Back