Award-Winning Author Richard Peck '56 Shares His Love of Storytelling
October 8, 2013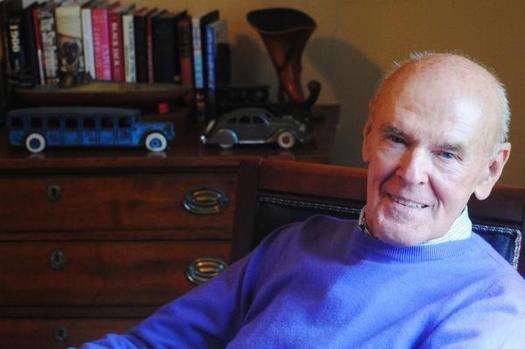 Richard Peck, the 1956 DePauw University graduate who began his career as a teacher and is now an award-winning author of books for young people, says, "My students made a writer out of me because they let me know what they liked to read and what they didn't." Peck made the comments to fifth grade students at Theodore Roosevelt Elementary School in Park Ridge, Illinois, last week.
"Peck's visit to the Park Ridge school was part of a promotional event for his latest book, The Mouse with the Question Mark Tail," reports the Park Ridge Herald-Advocate. "He also appeared at the Book Stall in Winnetka ... Peck, who has published over 40 books since 1971, was actually a teacher for 12 years, including a stint at Glenbrook North High School in Northbrook," reports Jennifer Johnson. "Peck, a Newberry Medal winner, said he wanted to be an author 'since the first day my mother read to me.' He recalled how he developed his books from stories he heard around him and how, as a child, he listened to the memories of the men who stopped by his father's gas station ...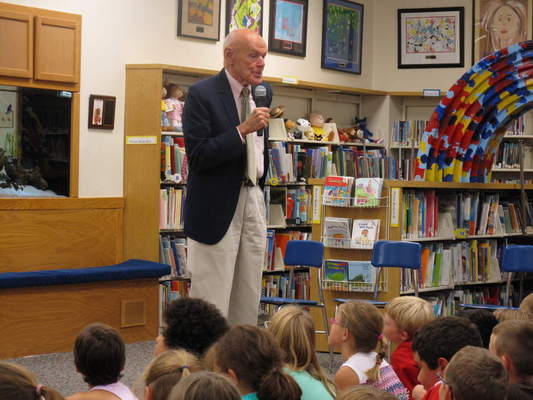 Some of the men remembered riding the first Ferris wheel at the 1893 World's Fair in Chicago, Peck said. Eventually, this made its way into one of his children's stories, too."
When it comes to his young readers, Peck says they approach a book as they always have. "I think they're still looking for themselves and I think they're still looking for the journey."
Read more here.
An English (literature) major at DePauw, Richard Peck has been called "America's best living author for young adults" and was the first children's book author to receive the National Humanities Medal. Are You In The House Alone? won the 1978 Edgar Allan Poe Award. He received the Newbery Gold Medal in 2001 for A Year Down Yonder. A Long Way From Chicago was a National Book Award finalist as was his Civil War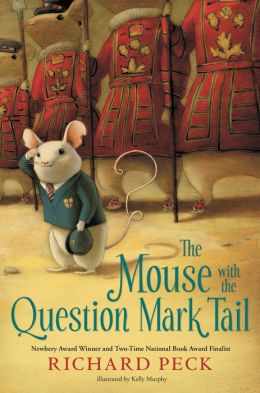 novel, The River Between Us.
[DOWNLOAD AUDIO: "Peck on DePauw" 603KB] DePauw "made a writer out of me," Peck said after winning the Newbery, the American Library Association's top award for children's literature. "It warned me never to show my rough draft to anybody. That helps. I write each of my books six times because I have to, and it's the sixth version my editor sees and nothing before that. I learned that from DePauw professors."
Back