Newspaper Profiles Tyler James '11 and His New Book, The Monon Bell Rivalry
November 13, 2013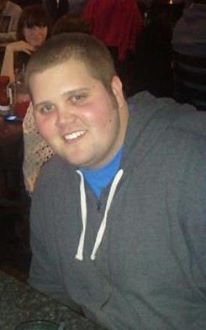 "It's something I just fell in love with," says Tyler James of the college football rivalry between DePauw University and Wabash College. The 24-year-old James, a 2011 DePauw University graduate and a former football player for the Tigers, is the author of The Monon Bell Rivalry: Classic Clashes of DePauw vs. Wabash. His new book is featured in the South Bend Tribune.
Recalling his freshman year and the game that was played at DePauw's Blackstock Stadium, James notes, "We won on a last-second (47-yard) field goal (by Jordan Havercamp). The kicker was a transfer. We didn't even know the kid's name. He had an old, ugly jersey that wasn't the same as the others. It had paws on the shoulders. The numbers weren't the same. And he drilled it."
Al Lesar writes, "Since that orientation, James hasn't missed a battle. A knee injury forced him out of football after that freshman year, but it never impacted his love for his school -- or his disdain for Wabash. He went on to work for the DePauw school paper, and is now the Tribune's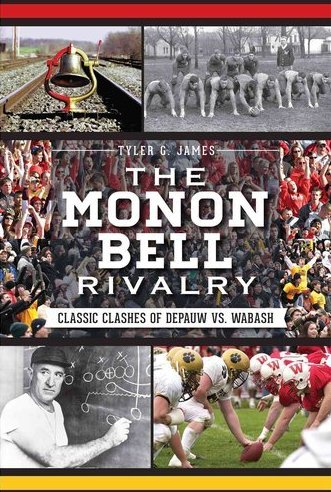 Notre Dame football recruiting bigfoot. James combined his writing talent with his love and knowledge of the rivalry to author a book: The Monon Bell Rivalry: Classic Clashes of DePauw vs. Wabash. The 157-page easy read details the roots of the rivalry and eight significant games -- four Wabash wins, four DePauw wins, just to be fair -- along with plenty of pictures."
An English (writing) major and Media Fellow at DePauw, James interviewed more than 60 people for the project.
According to Lesar, the Monon Bell Classic "has become part of the fabric of small college football. It is the essence of a game in which players compete for the love of the sport, not the promise of a free education."
Access the complete article at the Tribune's website. Also available is this previous summary.
The 120th DePauw-Wabash football game will take place this Saturday, November 16, at Blackstock Stadium. Some tickets remain available and the contest will again be televised nationally by AXS TV.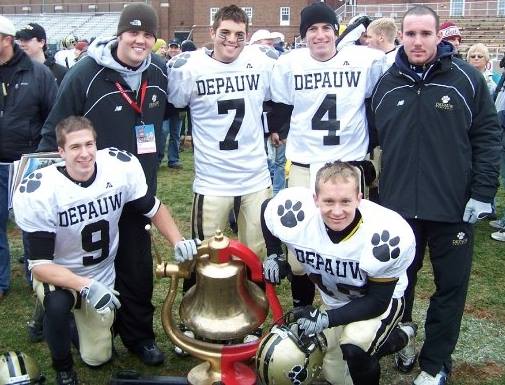 The series began in 1890. Wabash holds an overall 57-53-9 lead. Since the Monon Bell entered the rivalry in 1932, Wabash leads, 38-37-6.
All 119 games to date are commemorated in video vignettes known as "Monon Memories." The clips can be found here and on YouTube.
Access DePauw's Monon Bell Web page here.
Back