Dogged Journalism Makes for a Stronger Republic, Writes Lee Hamilton '52
November 28, 2013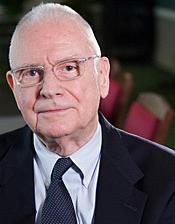 "At a moment like this, we have to depend more than ever on the curiosity, skill and determination of good reporters to spur the kind of debate we should be having as our society tries to strike the right balance between security and freedom," writes Lee Hamilton. In a newspaper column, the former congressman and 1952 graduate of DePauw University discusses "Edward Snowden's revelations to the press about the National Security Agency and its vast efforts to monitor communications" and the fallout that has followed.
"Around Washington, Snowden is routinely excoriated, and he's none too popular in the country at large, either," Hamilton asserts. "But whether he's a hero or a criminal in your book, there's no question that because of him, we know far more about the surveillance our government has been carrying out. The expansion of government power that the leaks reveal is without precedent in the modern era. Technology, along with the surveillance and monitoring it enables, has clearly outrun the policies to deal with it."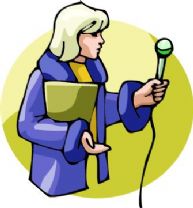 The Democrat who served 34 years in the U.S. House of Representatives continues, "Although many commentators have raised questions about Snowden's leaks, the journalists who have dug into the NSA files he provided are doing the job that democracy depends on them to do: getting information that details government actions and prompting a badly needed debate. It's one of the most important ways to hold government accountable for the use of its power. Our ability to judge whether it acted appropriately or abusively and to act as responsible citizens is buttressed by journalists who are skilled at finding and keeping confidential sources, who know how to dig through copious records or amounts of data, who have learned how to build a story from a tip or a leak, and who are accurate, honest, rigorous and fair-minded."
Read the complete op-ed at the website of Indiana's Kokomo Tribune.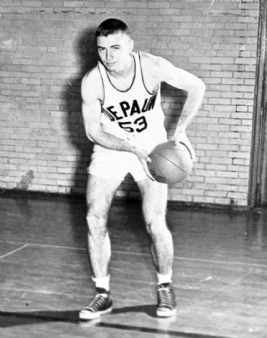 Now director of the Center on Congress at Indiana University, Lee H. Hamilton has remained active following his retirement from Congress, serving as vice chair of the 9/11 Commission and Iraq Study Group. He has authored Strengthening Congress; How Congress Works and Why You Should Care; and A Creative Tension: The Foreign Policy Roles of the President and Congress.
A history major and basketball standout as an undergraduate, Hamilton has been a frequent visitor to DePauw over the years and delivered an Ubben Lecture on March 15, 2011.
Back