Scott Ullem '89 Appointed CFO at Edwards Lifesciences
December 5, 2013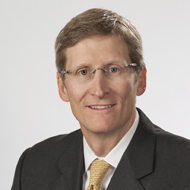 Scott B. Ullem, a 1989 DePauw University graduate, has been appointed chief financial officer and corporate vice president at Edwards Lifesciences Corporation (NYSE: EW), the global leader in the science of heart valves and hemodynamic monitoring. Ullem joins Edwards from Bemis Company, Inc., where he served as vice president and CFO since 2010. He was previously vice president of finance for the company, which is a major supplier of packaging and pressure sensitive materials.
Ullem's prior resume includes working in the investment banking divisions of both the Goldman Sachs Group, Inc., and Bank of America Corporation.
A political science major at DePauw, Scott Ullem later earned a master's degree in business administration from Harvard Business School. He is a former member of DePauw's Board of Visitors.

"After an extensive search, and discussions with many qualified candidates, we are very pleased that Scott has agreed to join Edwards at the start of 2014," says said Michael A. Mussallem, chairman and CEO of Edwards Lifesciences. "Scott has nearly 25 years of broad financial experience, proven leadership skills and a successful record as CFO of a global public company. We are confident he will serve as a valuable and passionate partner as our company continues its growth and expands its leadership in innovative technologies for structural heart disease and critical care patients in need."
Read more here.
Also available is this previous story.
Back