Dogs of Doubtful Origin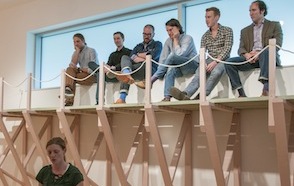 December 12, 2013
Associate Professor of Art and Art History Lori A. Miles chose a nontraditional way to culminate her yearlong sabbatical – a collaborative art exhibition with six former students: Ryan M. Blackwell '09, Matthew P. Kalasky '08, Travis J. LaMothe '10, Daniel S. Solberg '06, Jacob K. Stanley '05 and Michael G. Treffehn '06.
The exhibit, Dogs of Doubtful Origin, was constructed in 72 hours in Richard E. Peeler Art Center with materials found in Greencastle.
As Miles began her 10th year of teaching at DePauw, she reflected on her work. "I thought, I have a responsibility to make more meaning of this than simply showing the work I made while on sabbatical," she says. "This was an opportunity to put into action what we ask our students to do all the time: to question the status quo, make meaning of our visual culture and think outside the box.
"As artists, if we are unimaginative and don't reach and stretch ourselves, then there is no way to expect our students to exhibit those same behaviors," Miles says. "If I am satisfied with the rules of exhibition, as it's always been held, then I'm not setting an example for my students to imagine different solutions."
The impetus for the show began with the title, Dogs of Doubtful Origin, which came from a self-published book Miles read about werewolves. "The author wrote that werewolves are descendants of Amphicyonidae, which he defines as 'dogs of doubtful origin,'" she says. In fact, Miles learned that is not the correct definition. "Several other pseudo-scientists cite him in their own work and use the same incorrect definition."
She was intrigued by the cycle of inaccuracy that is self-perpetuating. "It is kind of like teaching art. There was a perpetuating break from truth, and that had a link to art making and teaching art. In essence, that's what we're doing – perpetuating a myth and challenging traditional notions of truth. That gave me the idea that I shouldn't do the show by myself."
She invited six former students who graduated with a concentration in sculpture and also completed Master of Fine Arts degrees. The alumni accepted her invitation.
"I thought this show could have amorphous boundaries - that no one knew where it began or where it ended – doubtful origin," Miles says. You wouldn't get the things that you expect to see when you come into a gallery – like a title card, for example. "What those things do is let us not have to see the work," she explains. "We get the information we need, and then we walk by and get satisfied by all the rules being met. So this show doesn't have title cards, and there are no names because there is no individual authorship."
It's a show that doesn't have ownership. "It's different from a traditional type of art exhibition where an individual artist, or a collection of individual artists, show individual pieces of artwork that may or may not have a common theme," she says.
"Each of the alumni came back with an open mind. I think they were grateful to be a part of it, and their contributions were so important." They decided there needed to be a narrative because each of the six artists is extremely different. "They run the gamut from very formal building-based, constructivist artist to purely performative, conceptual artists that don't make sculpture forms at all," Miles explains.
They collectively set a framework, starting with the year 1985, the average date of the graduates' birthdates. The theme involves a person who is stuck in time. The song "Take on Me" plays in a constant loop. That is the only song this person has to listen to. The floor is made of lava.
Miles told them to develop an idea for an island and a wall piece that they knew would be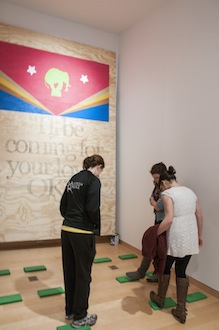 edited. "They are great craftsmen and beautiful artists, so it quickly began to look like a show that had visual cohesion," she says.
The installation turned out to be the artists' interpretation of Miles. "What was actually happening – the real incorporation of the song 'take on me' – was that the artists were rendering their own interpretation of me, of my work. I decided to intervene on each of their artistic contributions with a mark of my own work – a sort of visual rebuttal. With this system of collaboration, the artworks get to talk to each other, to have a visual conversation. In the end, the best part of this show was sitting in the room talking with these young artists. So, now the work gets to do the same thing."
It's a show that allows you to see the gallery as a space from top to bottom. Traditionally, most artwork is shown at eye level. "We forget that's a rule and that we agree to follow it," Miles explains. "One of the students who works curatorially started hanging some pieces outside of the range of expectation. There are pieces as high up as the ceiling down to the floor. Works are clustered together in some areas, entire walls are left blank, instead of filling the space evenly as we're accustomed to."
The exhibit pieces were auctioned to benefit the Low Road Gallery, 111 W. Washington St., which is managed by DePauw art interns. Some of the alumni who returned have worked at the gallery. "One of the exciting elements of this whole experience was seeing these alumni will have come full circle and leave their mark – their art – where they began," Miles says.
Back