IU's Jakobi Williams to Commemorate Birthday of Dr. Martin Luther King with Jan. 20 Speech
January 13, 2014
DePauw University will honor the legacy of Martin Luther King Jr. with a Monday, January 20 lecture by Jakobi Williams, associate professor of history at Indiana University - Bloomington. Dr. Williams will discuss "From the Bullet to the Ballot" at 11:30 a.m. in the auditorium of the Richard E. Peeler Art Center. The program is presented free of charge and is open to all.
The speech will focus on how Dr. King's work to ensure civil rights for all Americans did not end with his assassination but spurred further civil rights movement influences such as the Illinois Chapter of the Black Panther Party (ILBPP). Professor Williams will examine a direct link involving racial coalition politics in Chicago that stretches from the late 1960s ILBPP leadership of Fred Hampton to the present day with President Barack Obama.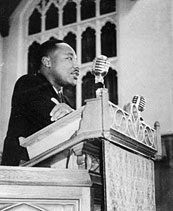 Williams, who earned a B.A. from Southern Illinois University - Carbondale and his M.A. and Ph.D. from UCLA, is the author of From the Bullet to the Ballot: The Illinois Chapter of the Black Panther Party and Racial Coalition Politics in Chicago. The book will be available for purchase at the DePauw event. (at left: Dr. King speaks on the DePauw campus at Gobin United Methodist Church; September 5, 1960)

For more information, call (765) 658-4850.
Back