Two Juniors Take First Place in Microsoft/Facebook Hackathon Challenge
January 22, 2014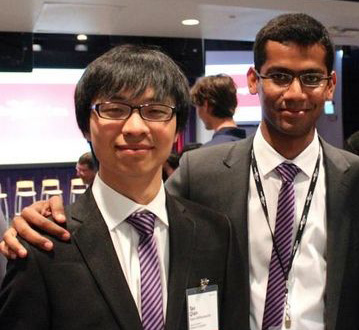 DePauw University students Rajat Kumar and Tao Qian are part of a team that emerged as the first-place winner of the Microsoft/Facebook Hackathon challenge. (photo, l-r: Tao Qian and Rajat Kumar)
The contest, organized jointly by Facebook and Microsoft, took place at the Facebook headquarters in Menlo Park, California. The competition began at 6 p.m. on January 17 and continued for twenty-four hours. Contestants were to use Microsoft and Facebook technologies to come up with a new and unique application idea, program a working demonstration, and then pitch it to the judges at the end of the contest. Throughout the contest, there were engineers from both companies to assist teams in using the respective technologies.
About 100 individuals participated in the event. They included college students as well as adults who are full-time software developers.
Kumar and Qian, along with their teammate, Val Lefebvre, created a mobile application called Aracle, which lets users anonymously ask questions to their friends via Facebook. "The app enables users to give honest feedbackand answers to each other and also provides a channel to ask questions they may feel very hesitant to ask if they had to attach their identity to it," the students note. (photo, l-r: Rajat Kumar, Dhiren Patel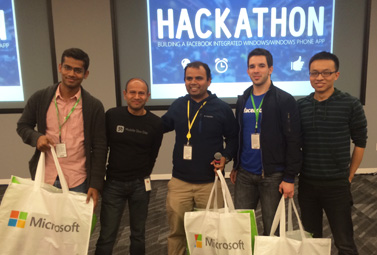 (Facebook judge), Sanjeev Dwivedi(Microsoft judge), Val Lefebvre, Tao Qian)
Kumar, a junior from Jamshedpur, India, is a computer science major and an Information Technology Associate.
Qian, who hails from Nanjing, China, is also a junior computer major and an Information Technology Associate and Science Research Fellow. He is spending the upcoming semester at Microsoft, where he was awarded a highly competitive internship.
Last July, Kumar, Qian and Michael Osborn '13 were featured in the Indianapolis Star after their app, WeAssist, earned them a trip to Microsoft's annual Imagine Cup U.S. finals. Read more here.
Back