Hannah Douglas an "Important Cog" for #1-Ranked Women's Basketball Team
January 24, 2014
"DePauw junior Hannah Douglas is emerging as an important cog for the No. 1-ranked team in the country," reports the Banner-Graphic in an article on the University's women's basketball team. "This would have seemed far-fetched three months ago, when Douglas's right arm was wrapped in a sling."
The feature by Grant Wieman details how Douglas decided to transfer from Butler University -- where she averaged 8.6 points and 4.4 rebounds in her sophomore season -- and come to DePauw.
Wieman notes, "Douglas is the first Division I transfer the DePauw women's team has had in the past decade," and was recognized as this week's North Coast Athletic Conference Women's basketball player of the week.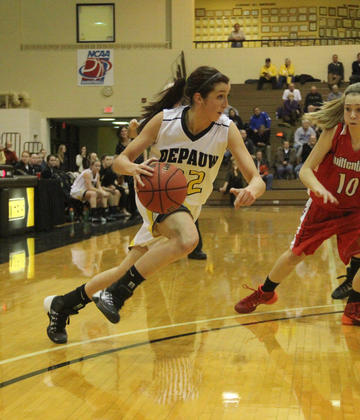 "When I came here for the first time and I met coach Huffman and I met coach (Mary) Smith and I met some of the girls, I loved it," Douglas, a communication major, tells the newspaper. "All the girls on my team are so nice and they welcomed me. ... As an athlete, you always want a coach that cares about you and I could tell that was the kind of person (Huffman) is."
DePauw is 17-0 this season and 8-0 in the NCAC after a perfect 34-0 record and national championship last year. Douglas is averaging 8.2 points and 2.2 rebounds per game.
Access the article at the Banner-Graphic's website.
The Tigers host Wooster at 3 p.m. on Saturday. Get the latest at the team's official online page.
Back