Linda Marks Lyon '65 Publishes One Small Community: One Expansive Flagship
February 15, 2014
Linda Marks Lyon, a 1965 graduate of DePauw University, has published a photo book, One Small Community: One Expansive Flagship.
"Comprised of photos taken shortly after the terrorist attacks of Sept. 11, 2001, the book shows the flag displayed in a variety of settings in Kennebunk, Maine, where Lyon now lives, and the nearby towns of Kennebunkport, Cape Porpoise and Arundel," reports the Intelligencer of Edwardsville, Illinois. "Lyon's decision to publish the photos after 12 years was spurred by the Boston Marathon bombings in April, 2013, when she noticed that some of the same flags that she had photographed in 2001 had come out again."
An English (composition) major, Lyon was senior assistant to U.S. Senator Olympia J. Snowe when the 9/11 attacks took place. "As I explain in the introduction (to the book), it was a Saturday morning (Sept. 22), I was doing some chores, like getting my mail from a general store (in Cape Porpoise) where I have my post office box," Lyon says. "On my way home, I drove past a local marina and I saw a couple facing the Kennebunk River. I just passed by them in my car and I noticed they were crying uncontrollably, and  thought it had to have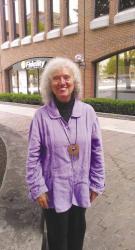 something to do with 9/11. I started crying, too, because seeing all those flags really hit me. I felt I had to tell the tale through photos."
She adds, "Publishing these photos is my way to give back to the community. I wrote a poem (which concludes the book) about a week after I took the photos, and it kind of completes the historical response."
The article notes Lyon's DePauw degree, and that she earned a master's degree in education from the University of Michigan. Lyon also taught at Delta College and the University of New England.
Read more at the newspaper's website.
Also available is this previous story.
Back