"Let's Try Strengthening Congress," Suggests Veteran Statesman Lee Hamilton '52
February 24, 2014
"In his State of the Union speech to Congress last month, President Obama drew widespread attention for pledging to use his executive authority to advance his priorities," writes Lee Hamilton, retired congressman and 1952 DePauw University graduate, in an op-ed published in a number of American newspapers. "He insisted he intends to act with or without Congress, and listed well over a dozen actions he plans to take by executive order."
While some applauded Obama's plan to break the logjam on Capitol Hill, others worried that he "is trampling on the constitutional separation of powers, grabbing powers for himself that were meant to be shared with Congress," Hamilton notes. "The problem with this debate is that it's missing a key part of the equation. Yes, our system needs a strong presidency. But it also needs a strong Congress. We are best off as a nation when the two consult, interact, and work together as powerful branches."
A Democrat who represented Indiana for 34 years in the U.S. House of Representatives, Hamilton states, "In truth, every president in recent memory has expanded the power of his office and been accused of a power grab. They've had plenty of motivation to do so. The modern world demands quick, decisive action. Americans tend to support presidents who act forcefully. Congress is complex, convoluted, and hard to work with; it is far easier for an administration to act on its own. Even members of Congress often defer to the president, counting on him to address issues they don't want to tackle or can't agree upon. And presidents have wielded executive orders to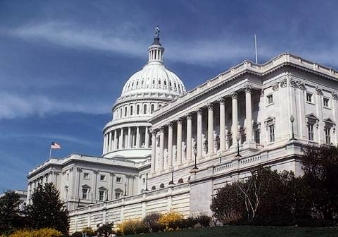 great effect. Abraham Lincoln's Emancipation Proclamation, FDR's Works Progress Administration, John Kennedy's Peace Corps, affirmative action under Kennedy, Lyndon Johnson and Richard Nixon, Ronald Reagan's enshrining of cost-benefit analysis as the key to regulatory review -- all came about through executive orders."
The approach has limits, in Hamilton's view, "because in the end there is no substitute for legislation. Presidents cannot write a budget, raise the minimum wage or reform entitlements by themselves. Because executive orders lack the permanence and force of law, they can be hard to implement and can be summarily canceled by a later president. They are more subject to legal challenge than legislation. And most important, executive orders are a unilateral exercise of power and do not benefit from a process of consensus building and consultation with voices independent of the president's."
The column concludes, "Whether a president oversteps his authority with these and other executive orders is inevitably colored by whether you agree with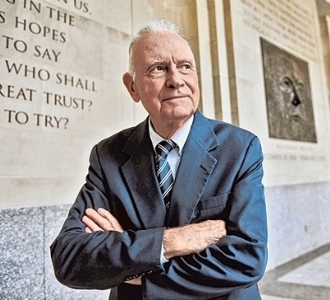 the proposed order. But my point is different. It is that the march toward presidential unilateralism, whether the president is a Democrat or a Republican, dangerously undercuts our constitutional system. Before we give up on the separation of powers, let's try strengthening Congress. This may not be the easy route, but if we don't take it, representative democracy itself is in doubt."
Access the complete essay at the website of the Providence Journal.
Lee H. Hamilton is now director of the Center on Congress at Indiana University. He and his brother, Richard '49, are featured in a three-part series that debuted this month on Indianapolis PBS affiliate WFYI-TV.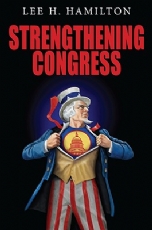 Lee Hamilton has remained active following his retirement from Congress, serving as vice chair of the 9/11 Commission and Iraq Study Group. The man called "Mr. Integrity" by Newsweek is the author of Strengthening Congress; How Congress Works and Why You Should Care; and A Creative Tension: The Foreign Policy Roles of the President and Congress.
A history major and basketball standout as an undergraduate, Hamilton has been a frequent visitor to DePauw over the years and delivered an Ubben Lecture on March 15, 2011.
Back