Journalist Phil Sayre '71 to be Honored Posthumously
October 5, 2012
Bruce Phillip "Phil" Sayre, a longtime New York Times editor and 1971 graduate of DePauw University, will be honored posthumously by his high school alma mater with induction into the Owensboro (Kentucky) High School Hall of Fame. The program will take place on Friday, October 19, at 10 a.m. in the school's media center.
A history and German major at DePauw, Sayre earned a master's in history from Boston University and a master's in international relations from the University of Pennsylvania. He worked for the Owensboro Messenger-Inquirer, Sioux Falls Argus Leader, Trenton Times, Bergen Record, and the New York Times, serving at the latter from 1989 to 2010 in several key roles, including national copy desk editor. Sayre was able to make it into New York City on September 11, 2001 and oversaw the Times' coverage of the terrorist attacks. He and the newspaper's staff received the Pulitzer Prize in Journalism for their work. He also served as lead editor for the Presidential election coverage in 2008.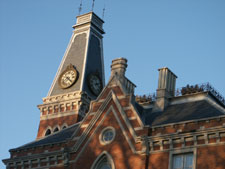 Sayre retired in 2010 and died suddenly on June 7, 2011.
Learn more here.
Phil Sayre was a regular visitor to his alma mater. His February 24, 2003 presentation at the Pulliam Center for Contemporary Media is summarized here.
Back