Award-Winning Author Richard Peck '56 Dispenses Advice at NYC Workshop
June 23, 2014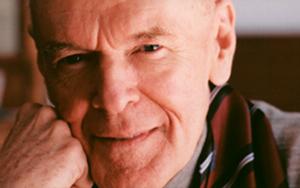 "If I knew how to write the novel I'm writing now, I'd be home writing it," Richard Peck, award-winning author of books for young people, told a writers workshop he led in New York City. "I'm here because I'm hiding from a manuscript -- just like you are."
Peck, a 1956 graduate of DePauw University, "offered candid insight into the writing process during a workshop called 'You Are Only as Good as Your Opening Line,' held June 10 at the Anthroposophical Society in New York City," reports Publishers Weekly. "Peck, who received a 1999 Newbery Honor for A Long Way from Chicago and won the 2001 Newbery Medal for A Year Down Under, spoke to a crowd of writers about voice, character, and crafting first lines that capture the soul of a piece of children's literature," writes Matia Burnett.
"Self-deprecation aside, diligence, patience, and dedication are keystones of Peck's
creative process: he writes each novel six times on his electric typewriter and, he said, 'after I find out how it ends, I write the first chapter that really belongs with the story.' Establishing a character's voice from the very first line of the book, he stated, is a must ... The resounding message Peck provided to the audience: it's through the process of rewriting and reshaping that authors arrive at their characters' epiphanies, as well as their own: 'Where'd we get the idea that we have to get it right the first time?' Peck wondered aloud. In other words: go home, write, rewrite, repeat." (at left: Peck addresses an audience at DePauw; June 9, 2011)
You'll find the full story at Publishers Weekly's website.
An English (literature) major at DePauw, Richard Peck has been called "America's best living author for young adults" and was the first children's book author to receive the National Humanities Medal. Are You In The House Alone? won the 1978 Edgar Allan Poe Award. A Long Way From Chicago was a National Book Award finalist as was his Civil War novel, The River Between Us.
[DOWNLOAD AUDIO: "Peck on DePauw" 603KB] DePauw "made a writer out of me," Peck said after winning 2001 Newbery Gold Medal, the American Library Association's top award for children's literature. "It warned me never to show my rough draft to anybody. That helps. I write each of my books six times because I have to, and it's the sixth version my editor sees and nothing before that. I learned that from DePauw professors."
Back