Five Student Musicians Selected to Perform at State Convention
January 17, 2012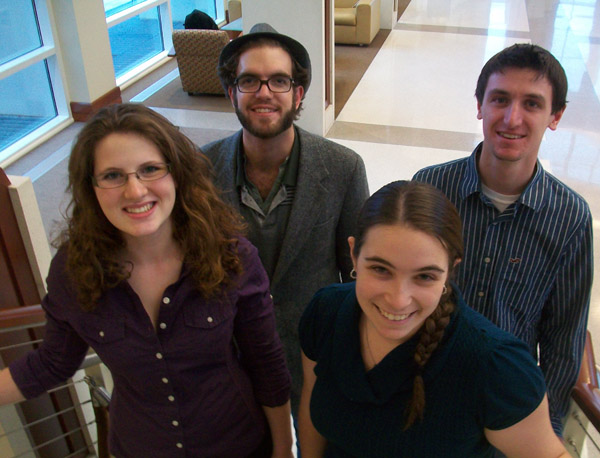 Five members of the DePauw University Band have been accepted to participate in the Indiana Intercollegiate Band, a select ensemble that will meet during the 2012 Indiana Music Educators Association convention, January 19-21. Megan Benedict (flute), Maggie Eppelheimer (trumpet), Sijia Luo (clarinet), Patrick Speranza (percussion), and Chance Trottman-Huiet (tuba) will rehearse and perform alongside music students from seventeen Indiana colleges and universities. (top photo, l-r: Maggie Eppelheimer, Chance Trottman-Huiet, Megan Benedict and Patrick Speranza; below: Sijia Luo)
"Our Indiana affilliate of the College Band Directors National Association (CBDNA) sponsors this honor ensemble every two years, and it provides our select group of collegiate musicians an opportunity to make music with their colleagues from around the state, as well as rehearse and perform under the baton of a world-class conductor and musician," states Craig Paré, professor of music and director of the DePauw Band, who nominated the student musicians. "I am certain this experience wlll be challenging, rewarding, and memorable for each of our students, and I am proud to have these five DePauw musicians represent the University and the School of Music."
The clinician for this year's Intercollegiate Band is Allan McMurray, director of bands at the University of Colorado, Boulder, who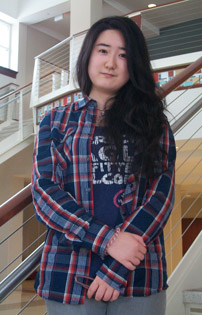 has selected the following program:
March from "Symphonic Metamorphosis of Themes of C.M. von Weber" – Paul Hindemith/Wilson
My Jesus, Oh What Anguish – Johann Sebastian Bach
Reed Suite in F – Gustav Holst
Symphony No. 2 - Frank Ticheli
The ensemble will rehearse at Indiana-Purdue University, Fort Wayne (IPFW) and is sponsored by the Indiana College Band Directors Association, a state affiliate of the College Band Directors National Association. The performance will take place at 1 p.m. in Fort Wayne's Embassy Theatre as part of the 2012 Indiana Music Educators Association state convention. It is free of charge and open to the public.
Back