Making a Case for DePauw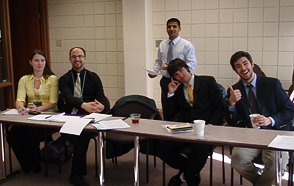 April 5, 2012
Just as March Madness was heating up, DePauw's Bioethics Bowl team was making a deep run in a national tournament of its own.
At the National Undergraduate Bioethics Conference (March 23-24) in Denver, the DePauw team faced off against the University of Miami, Georgetown University, University of Central Florida and University of North Carolina.
That's an intimidating lineup on or off the hardcourt, but the DePauw team of Bethany A. Buis '12, Bryan A. Edwards '12, Benjamin C. Hoffman '13, Cole P. Rodman '14 and Mohammad Usman '12 more than held their own. They went undefeated on their way to the final round – a rematch against Georgetown, who they had beaten the previous day.
In Bioethics Bowl, teams are assigned separate cases of bioethical dilemmas in areas such as medicine, animal rights and the environment, and can choose which side to support in their presentation. Each team then presents its case, responds to commentary from the opposition and answers questions from a panel of judges. When both have finished, scores are tallied and the winner is announced.
In their finals rematch against Georgetown, the DePauw team presented in support of a controversial hormonal treatment. It was a challenging position to take, but weeks of intense practice leading up to the tournament had given the team ample confidence and preparation.
And it delivered DePauw a national Bioethics Bowl title.
"I felt very positively about the team's chances," says Professor of Philosophy Marcia A. McKelligan, who coaches the team. "I thought they were incredibly well prepared. They worked hard to perfect the content of their presentation and to practice presenting it smoothly."
McKelligan says that she and Assistant Professor of Psychology Ted R. Bitner met with the team frequently – sometimes as often as five times a week for two- to three-hour practice sessions – to discuss the 15 tournament cases provided to competing schools in mid-February. With no indication of which cases would actually come up during the competition, the team split them up evenly for individual study and recruited other students to act as their opposition in mock competitions.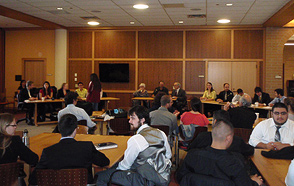 (Left: DePauw, on right, faces Georgetown in the finals.)
"I feel that the biggest part of our team's success was solid preparation," says team member Bryan Edwards. "In the time leading up to the competition, we would meet with our coaches and awesome student volunteers to debate all of the issues. It pushed us to be certain that we could truly defend the stances we intended to take and were aware of many of the arguments that may arise against them."
As an entirely intellectual competition, practice for Bioethics Bowl also carries over into the classroom. Edwards, a double major in biology and philosophy, says that his contribution to the team's success was closely tied to the education he's received at DePauw.
"My education was a huge benefit to my ability to compete at Bioethics Bowl," Edwards says. "My training in philosophy taught me how to construct an effective argument and introduced me to different schools of thought regarding ethical theory, and my background in biology helped me have a deeper understanding of the potential circumstances and consequences surrounding our cases."
Mohammad Usman, an urban public policy and conflict studies double major, says that the breadth of the liberal arts curriculum also turned out to be helpful. Twice during their presentations, judges unexpectedly asked the team how feminists might respond to their claims.
"As it happens, last semester I completed an advanced-level women's studies course, Feminist Inquiry, from which I borrowed heavily to field these questions," Usman says. "I found my studies and preparing for the competition hard to distinguish at times."
Adding to the team victory, Benjamin Hoffman received an award for the "most inspired student presentation" with his paper, "The Ethics of Using Neuroenhancing Drugs on Children."
Hoffman didn't hedge in his endorsement of the competition. "I don't think there's anything as intellectually challenging at DePauw as Bioethics Bowl," he says.
Another championship team at DePauw might like to challenge that claim. Earlier in March, Ronnie D. Kennedy '14 and James W. Kirkpatrick '13 won a national debate championship at the Pi Kappa Delta National Comprehensive Tournament in Overland Park, Kan. Kennedy and Kirkpatrick went 8-1 during the tournament, prevailing in a 2-1 decision against Boise State University to win the title.
As a co-curricular activity, the debate team has a formal connection to academics at DePauw. Associate Professor of Communication and Theatre and Director of Forensics Geoffrey D. Klinger, who manages the team and debate-related programming, not only runs weekly debate practices and judges competitions, but also teaches courses on the topic, including an upcoming Winter Term.
"The debate team is a natural extension of our department's curricular offerings, and gives students extensive experience in non-traditional academic settings," Klinger says. "In addition, intercollegiate competitions help sharpen our skills against some of the best and brightest from other colleges and universities."
And sometimes you end up at the top. While the Bioethics Bowl and debate teams might not have received national attention on par with the winner of that other March tournament, their accomplishments are just as meaningful.
Even they would find that hard to debate.
Back