DePauw Percussion Ensemble Presents 'Fire, Fugues, and Fandangos' Thursday
April 13, 2013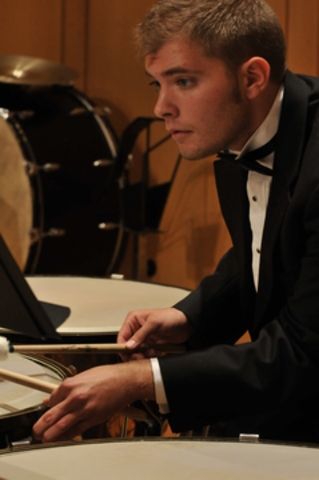 A wide range of musical styles from the eighteenth-century to the present -- including two new works by Indiana composer Alexis Bacon and by DePauw student composer Josiah Rushing -- will be featured in the DePauw Percussion Ensemble's spring concert "Fire, Fugues, and Fandangos" on Thursday, April 18, at 7:30 p.m. in Kresge Auditorium.
The concert opens with Emmanuel Séjourné's fascinating "Vous avez de feu" ("Have You Got a Light?"). Two fugues from the Well Tempered Clavier, by J.S. Bach, and two twentieth-century works, The Frame Problem by James Romig and Second Construction by John Cage, will follow. For fandangos, director Amy Lynn Barber has also programmed not one but two premieres.
Bacon's new work, Three Places in Brazil, written especially for the DePauw Percussion Ensemble, was inspired by time the composer spent recently in South America. "It mixes traditional Brazilian instruments and musical elements with her own musical language," says Barber, percussion professor at DePauw. "While our graduating senior percussionist Josiah Rushing's piece Snap, Crackle and Pop, features sophomore Beth King on alto saxophone, along with an exploration of some unique sounds on the marimba."
"Josiah has been showcased many times during his four years as a performer, and we are pleased to feature him as a composer on this concert as well," Barber adds.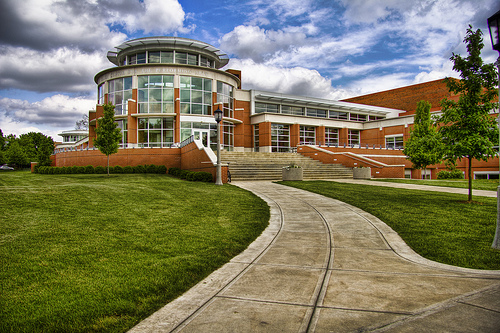 Bob Haggart's "Big Noise from Winnetka" will conclude the concert. Popularized by Bette Midler's recording Divine Madness, the work originated in the 1930s as an impromptu improvisation between a jazz bassist and a drummer. The arrangement to be performed Thursday will feature Andrew Bosomworth on timpani and Josiah Rushing on drums.
General admission tickets to the Percussion Ensemble performance are $3. All students, children and seniors over 65 are free. For additional information or assistance, call (765) 658-4827 or visit www.depauw.edu/music/tickets.
Back