Former Players and Friends Return to Honor Coach Nick Mourouzis, "An Inspiration" to Many, at Old Gold 2013
October 12, 2013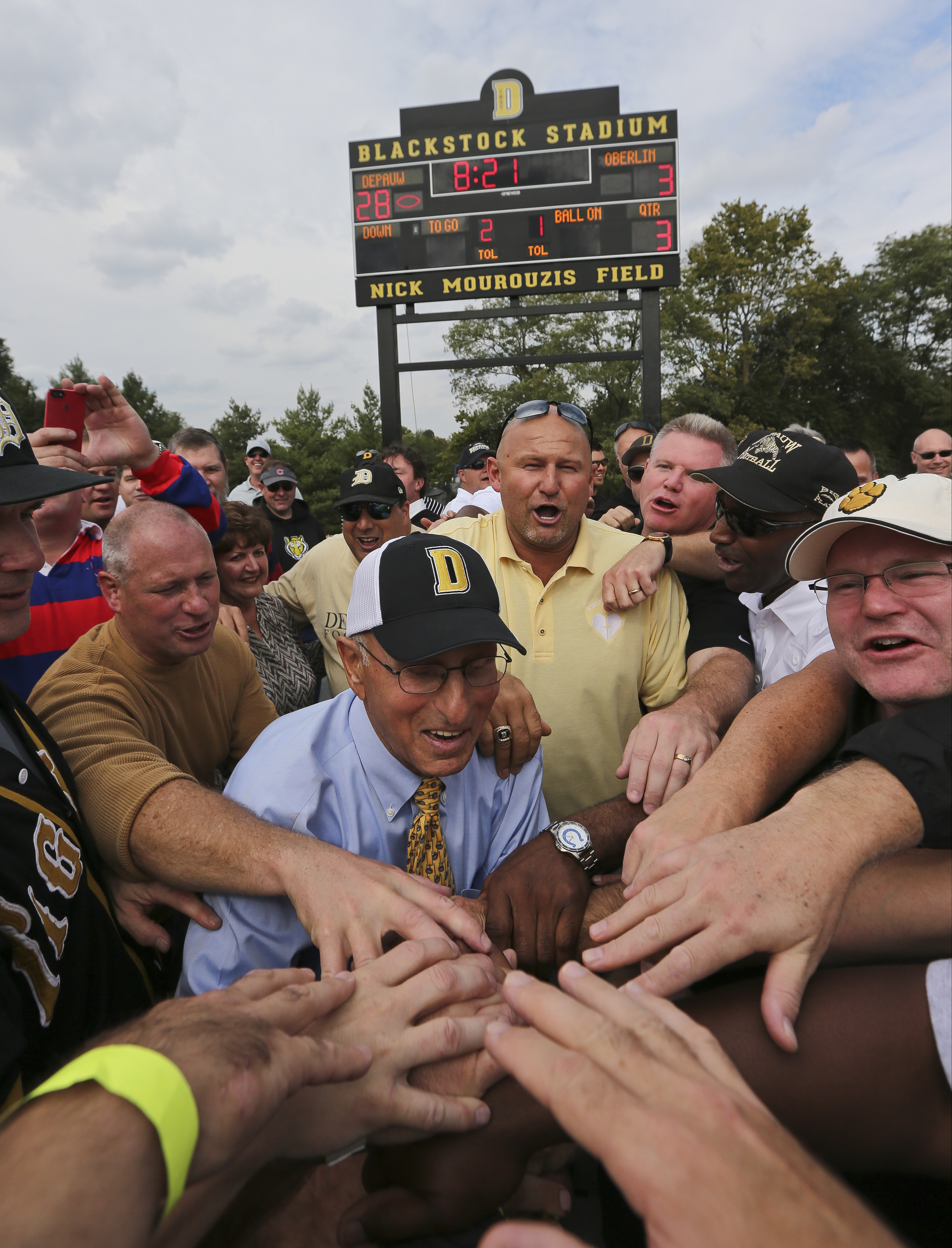 Photo Gallery
Nick Mourouzis, DePauw University's legendary former football coach, "had the kind of enthusiasm that's infectious, that every kid wants to be around," Rob Doyle '82, co-captain and quarterback on the coach's first Tiger team, said this afternoon at Blackstock Stadium. At halftime of today's Old Gold football game, 40 alumni who were captains of teams led by "Coach Nick" and more than 100 other former DePauw football players and coaches gathered for a ceremony at mid-field to dedicate the new synthethic turf as Nick Mourouzis Field.
Mourouzis led the DePauw University football program from 1981 through 2003, compiling a record of 133-82-4. He was named the Southern Collegiate Athletic Conference Coach of the Year in 2000 and was the Indiana Collegiate Athletic Conference Coach of the Year in 1996 and 1990.
A standout quarterback at Miami (Ohio) University, where he is a member of the "Cradle of Coaches," Mourouzis began his coaching career as a graduate assistant under Bill Hess at Ohio University from 1959-61. "Coach Nick" then spent a year at Ohio's Kettering Fairmont High School, where he was assistant football and head track coach. From there, he moved back into college coaching with assistant coaching stints at Ball State (1962-63), Ohio University (1963-65), Indiana (1965-73) and Northwestern (1973-81), before coming to Greencastle, where he replaced Jerry Berndt.
"He has been an inspiration to not only the players here, but all across the state and the country," added Doyle, who practices law in Indianapolis. "He's well known as one of the greatest coaches in America."
Doyle's co-captain on the '81 squad, which ended a 24-game unbeaten streak by Wabash College with a Monon Bell triumph in their final contest, was Bob Torkelson '82, president and chief operating officer of Trinchero Family Estates. "When you think back at the things that you gave us, it was the confidence to believe in ourselves," Torkelson said as he addressed his former coach at the 50-yard-line. "If you take anything away from the man that Nick Mourouzis is, it's instilling confidence to believe that what you're doing is right. Together with hard work and discipline, it's taken us all a long way in life."
"On behalf of all student athletes at DePauw -- past, present and future -- I just want to say thank you, we wish you the best of luck, and we all love you," Doyle added.
S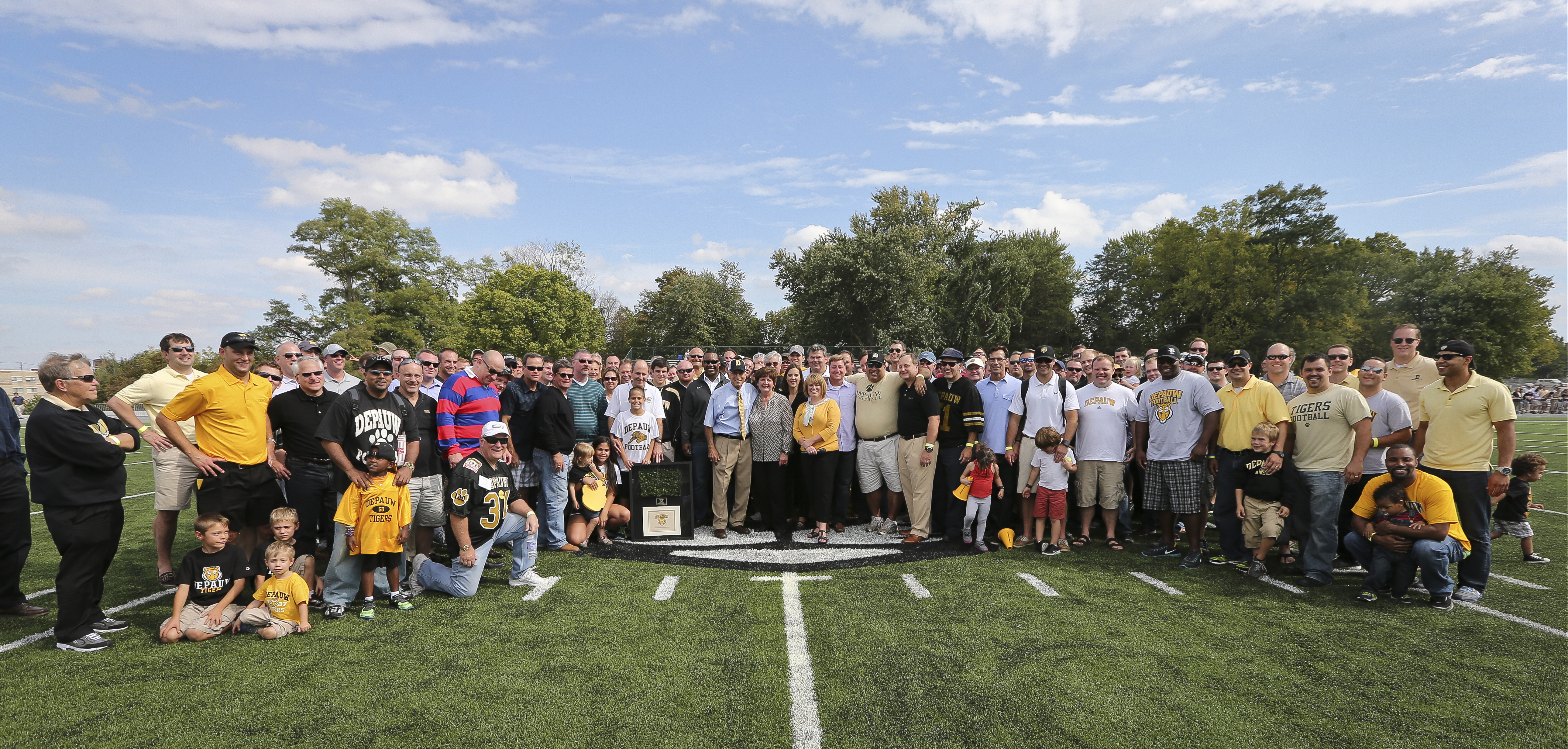 tevie Baker-Watson,Theodore Katula Director of Athletics and Recreational Sports, shared remarks on behalf of the University. The new field was made possible by an anonymous donor.
Professor emeritus of kinesiology at DePauw, Mourouzis is a member of the Indiana Football Hall of Fame and founded Chi Alpha Sigma, the nation's first collegiate scholar-athlete honor society. He was selected by students to deliver the commencement address to graduating seniors in 2004.
Video of the presentation is embedded below.
After the ceremony, the group walked north to the new Blackstock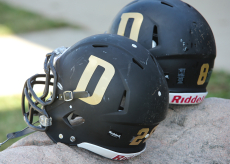 Stadium scoreboard, where a new sign for Nick Mourouzis Field was unveiled. The large contingent spent most of the remainder of the afternoon at that spot reminiscing with their former coach and each other and posing for photos.
The 2013 Tigers and their head coach, Bill Lynch, sealed the perfect afternoon by defeating North Coast Athletic Conference foe Oberlin College, 45-11. The game was covered by two Indianapolis television stations, and video is below.
Indianapolis Fox affiliate WXIN/Fox59 plans to air a report on the dedication of the field next week during its 10 p.m. newscast.
Back