DePauw Theatre Presents New Play, Achilles/Achilles' Son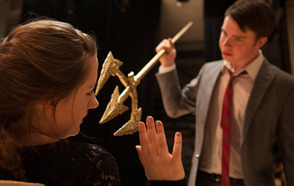 January 17, 2014
Achilles/Achilles' Son, a new play by Sean Graney, Nancy Schaenen '51 Visiting Scholar at the Prindle Institute for Ethics, will be staged by DePauw Theatre this month. Combining music, food and debate with seven Greek tragedies based on the Trojan War, the production of Achilles/Achilles' Son is the Winter Term project of a group of DePauw University students and their director, Tim Good, associate professor of communication and theatre.
Achilles/Achilles' Son resembles a festival more than a play. The intention of the show is for the themes on stage to open a forum for discussion of current world issues, ranging from the nature of war to the true value of life. Influences from Aeschylus, Sophocles, and, of course, Euripides' The Trojan Woman form the play's script.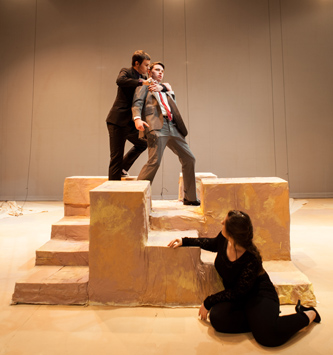 The show opens with a preview on Monday, Jan. 20, at 7:30 p.m. in Moore Theatre, located within DePauw's Green Center for the Performing Arts. Shows continue with a matinee on Sunday, Jan 26, at 1 p.m. and on Jan 27-29 at 7:30 p.m. Purchase a ticket via this link; free food is included with the performance.
Join the cast and crew for an opening night reception following the Jan. 27 performance in the Great Hall, and on Jan. 28 for a talk-back session.
For more information, visit www.depauw.edu/arts/theatre.
Back