Three Lund Scholarships Awarded at Annual Banquet
April 1, 2014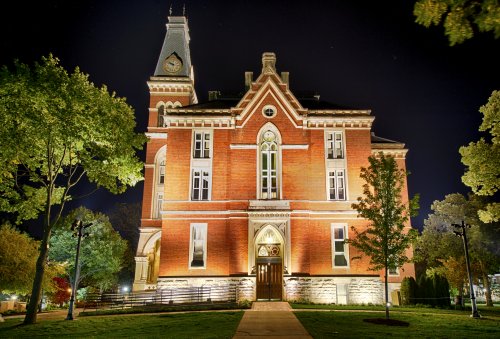 Three DePauw University students are being rewarded for their scholarship and involvement in the campus and community by being named Albert L. Lund '48 Scholars for the 2014-15 academic year. John Colton '14, Jake Rust '15 and Nick Thompson '16 were announced as winners of the scholarships at Phi Delta Theta's annual awards banquet tonight at the Inn at DePauw. The awards are for $6,000 each.
Albert Lund, who was a Phi Delt at DePauw, established the scholarship in 1999 to honor members of his fraternity for their dedication to academics and to recognize their involvement in campus and community activities. Forty-six Lund Scholarships totaling more than $220,000 have now been awarded. Lund died in 2003.
Larry Lund '77 and his sister, Lindsey Lund Peteri' '74 (the son and daughter of Albert Lund) presented the awards. Ed Gower '77, ScottShewalter '77 and Steve Jones '69 -- who are members of the Lund Selection Committee -- were on hand, as well. A number of members of the DePauw faculty and staff attended the event, and Larry Stimpert, vice president for academic affairs, was the keynote speaker.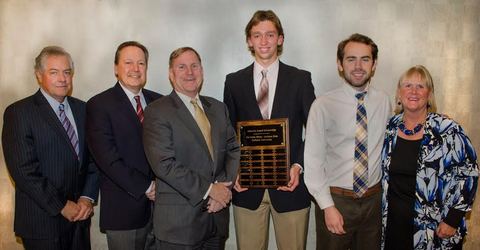 (photo, l-r: Gower, Shewalter, Larry Lund, Thompson, Colton and Lindsey Lund Peterik)
"My father's enrollment at DePauw was made possible by a Rector Scholarship, and he always viewed the idea of creating opportunity for young students as important and essential," recalls Larry Lund. "DePauw was very special to my dad, as was Indiana Zeta, where so many of his fondest college experiences occurred. His gift is making this chapter an even stronger institution and helping DePauw students achieve their goal, which serves the University well. Honoring these young scholars is something we look forward to each spring."
Back