Commencement DVDs Arrive from Factory, Now Shipping
June 4, 2014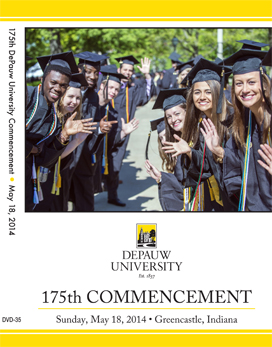 The limited edition DVD of DePauw University's 175th commencement program is now shipping, seventeen days after the ceremonies took place. The professionally replicated disc includes all of the speeches of May 18 as well as footage of each member of DePauw's Class of 2014 receiving their diplomas from President Brian W. Casey. The DVD also contains a large photo gallery and a number of extra features that celebrate the graduates' four-yeat experience. (at right: the front cover of the DVD package)
Orders are being accepted at $19.95 for the first disc; additional DVDs sent to the same address are $8 each (7% sales tax will be added to Indiana orders). An online order form is available here. Supplies are limited.
In addition to the four camera shoot of the commencement program, the disc also features campus highlights of the past four years (ranging from clips of the opening convocation at which the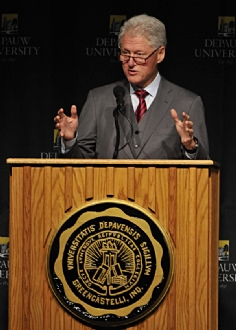 Class of 2014 was welcomed to DePauw by President Casey, the opening of Eli's Books/Starbucks on the square, the women's basketball team's 2013 national championship, and montages of Ubben Lecturers such as Bill Clinton, Jane Goodall, Oscar Arias, Rebecca Skloot, Ron Paul and Michio Kaku); "Monon Memories" of the last four football battles with Wabash College for the prized Monon Bell; a commencement photo gallery which includes hundreds of images; and vintage film from the DePauw Archives, including a 1961 television program restored from a kinescope. It would take more than five hours to watch the entire contents of the DVD.
"It amounts to a video yearbook of the Class of 2014's experience," according to Ken Owen '82, executive director of media relations at DePauw, who mastered the disc. "It collects a lot of special memories -- including graduation day -- in one place, to be enjoyed for years to come."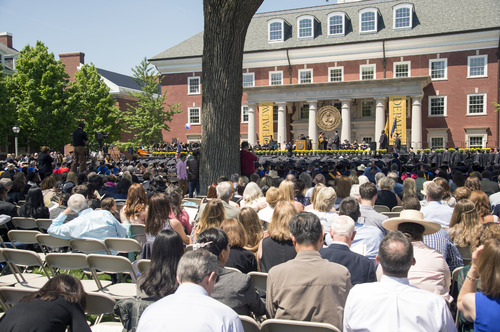 This is the 34th DVD that DePauw has produced. Past projects include 17 Monon Bell Classics (1977, 1993, 1994 and 2000-13), some of which remain available here (supplies are very limited of the 2002, 2007 and 2010 DVDs; the 2004 and 2006 discs are sold out). Also available are DVDs of past commencement ceremonies (which have been captured on disc since 2002) via this link.
Kal Penn, actor and former White House official, presented the primary address at the May 18 ceremony, where 506 diplomas were awarded. Read more in this summary.
Back