Rob Lowe Coming to DePauw for May 1 Ubben Lecture
April 10, 2017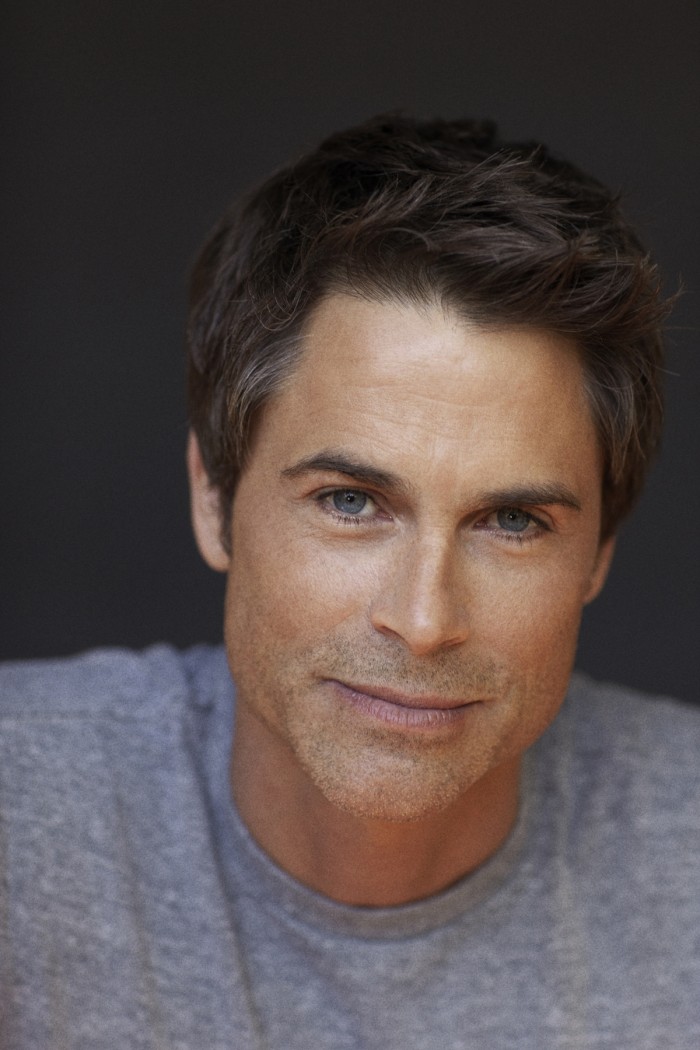 Rob Lowe -- the actor, author and producer whose parents and grandfather are graduates of DePauw University -- will make a homecoming of sorts when he visits the Greencastle campus on Monday, May 1. The star of About Last Night, The West Wing, and Parks and Recreation will deliver a Timothy and Sharon Ubben Lecture at 7:30 p.m. in Kresge Auditorium, located within DePauw's Green Center for the Performing Arts (605 S. College Avenue). During the program, Lowe will be presented with the University Arts Medal. [UPDATE 4/26: This event has been postponed.]
Like all Ubben Lectures, the event is presented free of admission charge and is open to everyone. There are no tickets. Students with DePauw ID will be admitted to the venue beginning at 6:15 p.m.; the venue will open to all others at 6:30 p.m.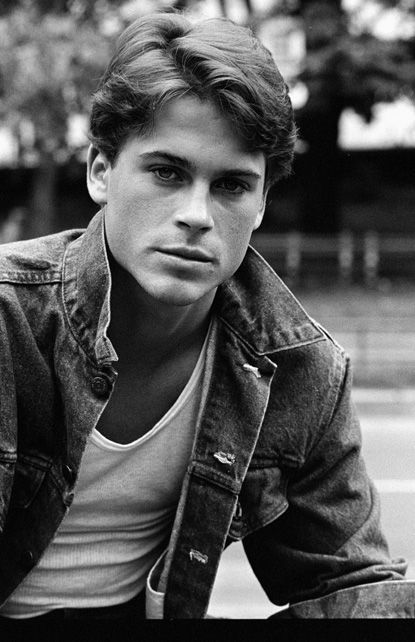 Rob Lowe was born in Charlottesville, Virginia and raised in Dayton, Ohio. His father, Charles D. Lowe, graduated from DePauw, where he lettered in tennis, in 1961 with a degree in economics and has practiced law in Dayton for more than 50 years. His mother, the former Barbara Hepler, was also a 1961 DePauw graduate and majored in English, a subject she later taught in high school. His parents divorced when he was 4; his mother died of breast cancer in 2003.
Lowe's grandfather, Robert E. Lowe, received a DePauw degree in English in 1931 and owned an insurance and real estate company in Anderson, Indiana. He died in 1978.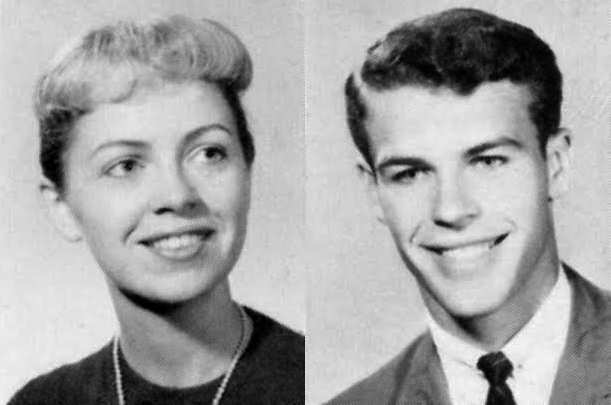 Rob Lowe began his acting career in local television and theater at the age of eight, joining the cast of ABC's A New Kind of Family after his family relocated to Los Angeles. He became a household name after appearances in films such as The Outsiders (1983), St. Elmo's Fire (1985), and About Last Night... (1986).
After living a fast-paced Hollywood life as a young actor, he married Sheryl Berkoff, a makeup artist he'd met seven years before on a blind date, and became a dedicated husband the father of two sons.
"There is no recovery for anyone without lifting the lid on the pain of the past and letting in the light," Lowe wrote in his book, Stories I Only Tell My Friends.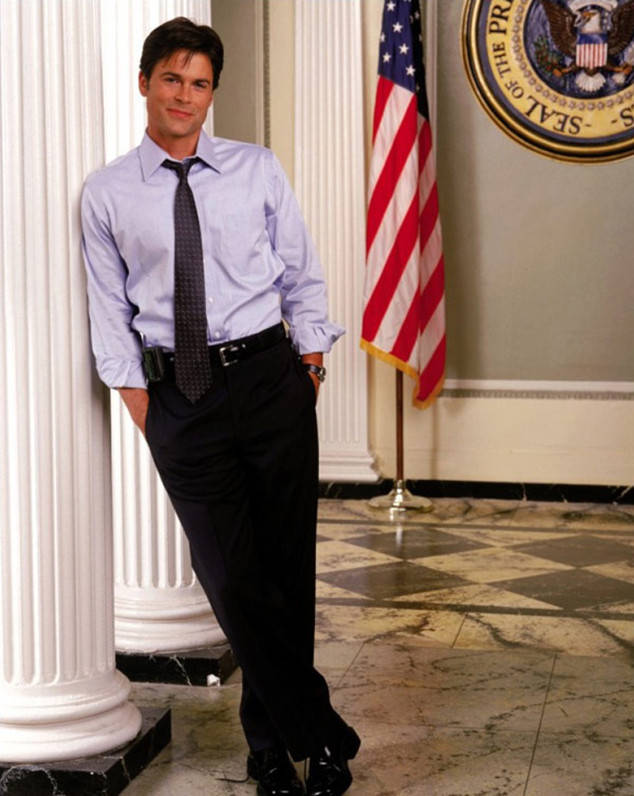 In 2015 he told GQ, "For someone in recovery like me, the single greatest hurdle -- the number one with a bullet that will make you drink -- is resentment. You can't have it. People always say, 'How have you been sober 26 years? What's the secret?' Well, that's it. I always feel there's enough room at the table. If somebody else is achieving more than I am, that means I can do it, too. Everybody has the ability to raise themselves up, and my life has been marked by that."
Lowe's extensive résumé includes playing Sam Seaborn in TV's The West Wing from 1999 to 2003, for which he received a Primetime Emmy Award nomination and two Golden Globe Award nominations for Best Actor in a Drama Series. He was the star and executive producer of The Lyon's Den and Dr. Vegas, and starred in the TNT remake of the Stephen King miniseries Salem's Lot, which was the highest-rated original show aired by the cable network.
Lowe also received critical acclaim and a leading actor nomination from the Screen Actors Guild for his starring role in National Geographic Channel's, Killing Kennedy, which also garnered an Emmy nomination in November 2013. Lowe received a Golden Globe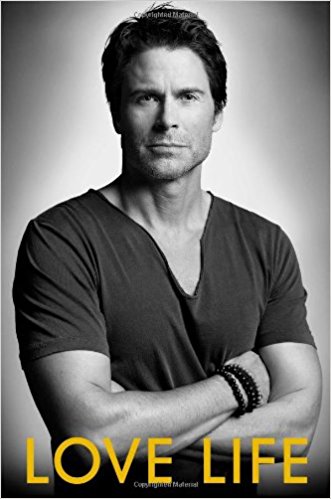 nomination for his co-starring role in the 15-time Emmy nominated HBO film Behind the Candelabra.
He later joined the cast of ABC's Brothers & Sisters and then became a regular on the NBC series Parks and Recreation. He also had a recurring role on Showtime's comedy Californication.
In May 2011, Lowe's memoir, Stories I Only Tell My Friends, was released. His second book, Love Life, followed three years later, described as "an honest and celebratory memoir about men and women, art and commerce, fathers and son, addiction and recovery, and sex and love." Both were New York Times best-sellers.
Lowe's recent movie credits include The Invention of Lying, Austin Powers: The Spy Who Shagged Me, Thank You for Smoking, and I Melt With You.
He is currently in the CBS medical drama Code Black,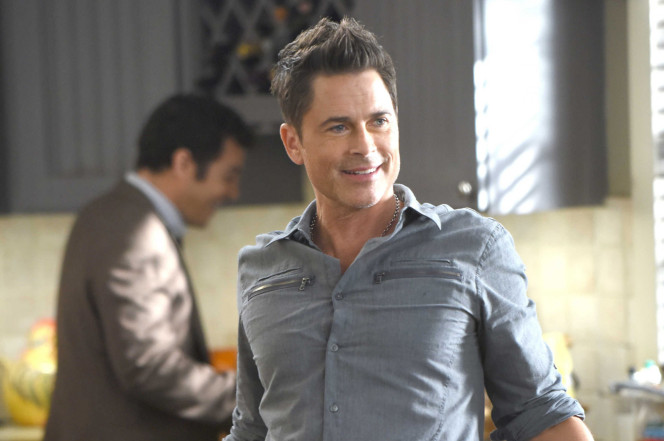 where he plays Col. Ethan Willis, a doctor in the U.S. military's prestigious combat casualty care research program. He will be seen this summer in Super Troopers 2, the sequel to the 2001 cult classic where he will play Guy Le Franc, a former hockey player and the current mayor of a Quebec Canadian border town. He most recently was seen in in Fox's, The Grinder, for which he received a 2016 Best Actor Golden Globe nomination.
This summer A&E will debut The Lowe Files, which, according to Variety, "will feature the veteran actor and his sons -- Matthew, 23, and John Owen, 21 -- on a trek around the country to investigate spooky legends and mysteries. The trio aim to bring some scientific rigor to the process by consulting with experts and academics in fields related to the ghost stories they pursue."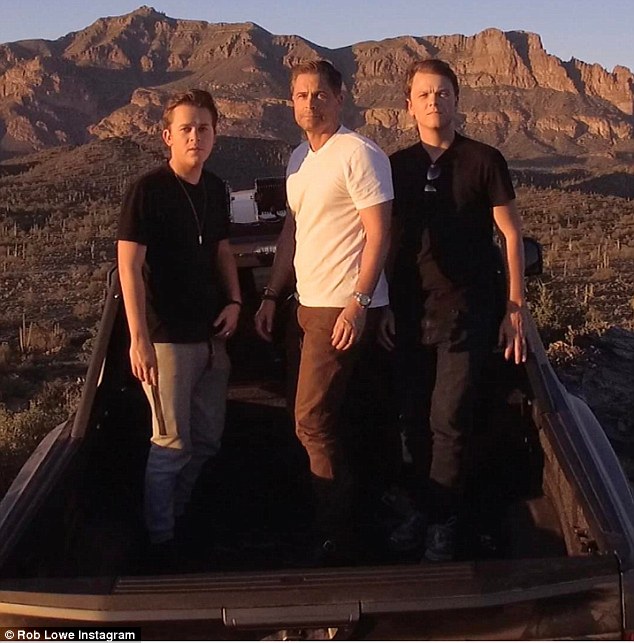 Lowe is also known for his advocacy for research and education for breast cancer, which has affected his mother, grandmother and great-grandmother and other family members and friends. He was the first male spokesperson for the Lee National Denim Day fundraiser. He's also a founder of the Homeowner's Defense Fund, a Santa Barbara County non-profit, non-partisan organization dedicated to local control of land-use planning and transparency in government. (at right: Lowe with his sons)
Lowe's legacy in Hollywood was cemented in 2015 with the unveiling of his Walk of Fame star.
As he wrote in his second book, "Adventure is important in life. Making memories matters. It doesn't have to be a secret seaplane and a historic sports moment, but to have a great life you need great memories. Grab any intriguing offer. Say yes to a challenge and to the unknown. Be creative in adding drama and scope to your life. Work at it like a job. Money from effort comes and goes, but effort from imagination and following adventure creates stories that you keep forever. And anyone can do it."
Established in 1986 through the generous support of 1958 DePauw graduates Timothy H. and Sharon Williams Ubben, the Ubben Lecture Series was designed to "bring the world to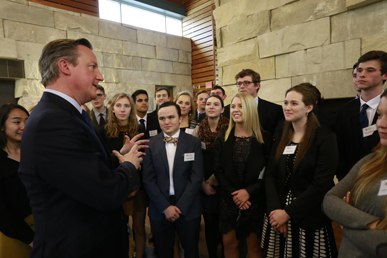 Greencastle." The series has now presented 107 events over the past thirty years. This semester's previous guests were Tony Award-winning Hamilton star Leslie Odom Jr., who spoke on September 20, and legendary civil rights leader and presidential adviser Vernon E. Jordan Jr., a 1957 graduate of DePauw, who presented the keynote address at the October 29 inauguration of DePauw's twentieth president, D. Mark McCoy, and David Cameron, who came to DePauw December 8 to make his first public speech since leaving the British Prime Minister's post. (at left: David Cameron speaks with students at DePauw's Prindle Institute for Ethics)
Other previous Ubben Lecturers have included Benazir Bhutto, Margaret Thatcher, Mikhail Gorbachev, Elie Wiesel, Jane Goodall, Tony Blair, Bill Clinton, Jimmy Kimmel, Shimon Peres, David Brooks, Spike Lee, Doris Kearns Goodwin, Mike Krzyzewski, Julian Bond, General Colin Powell, Andrew Luck, Michio Kaku, Piper Kerman, Oscar Arias, Barbara Bush, Ambassador L. Paul Bremer, General Wesley Clark,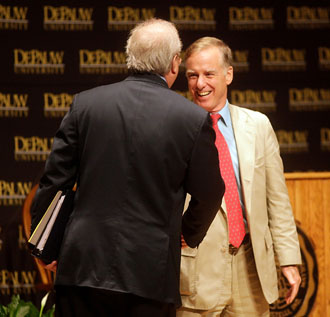 Jimmy Wales, Todd Rundgren, Bob Woodward, Greg Mortenson, Ken Burns, Ron Paul,Naomi Wolf, Ross Perot, Karl Rove, Howard Dean, Eric Schlosser, Harry Belafonte, Leymah Gbowee, Sam Donaldson, David McCullough, John Major, Lee Hamilton '52, Ralph Nader, Carl Bernstein, Martin Luther King III, Willy Brandt, Dan Quayle '69, F.W. de Klerk, Jane Pauley, Arne Duncan, Bret Baier '92, Mitch Albom, Brian Mulroney, Yeonmi Park, Candy Crowley, Peyton Manning, Liz Murray, Jason Reitman, William J. Bennett, Richard Lamm, Jim Lovell, Gwen Ifill, ice cream entrepreneurs Ben Cohen & Jerry Greenfield, Sister Helen Prejean, Bill Bradley, Douglas Hallward-Driemeier '89, David Ho, Allen Neuharth, Andrew Young, Paul Volcker, Jim Alling '83, Paul Tsongas, Nicholas Carr, Rebecca Skloot, Mary Frances Berry, Zbigniew Brzezinski, George Will, Carl Rowan and many others. (at right: Karl Rove and Howard Dean shake hands during their Ubben Debate at DePauw)
To view a complete roster of Ubben Lecturers -- which includes links to video clips and news stories -- click here. Video montages of many events are available on YouTube.
Back