A Month Before Being Honored at DePauw's Commencement, Todd Rundgren Surprises Crowd at Coachella
April 15, 2017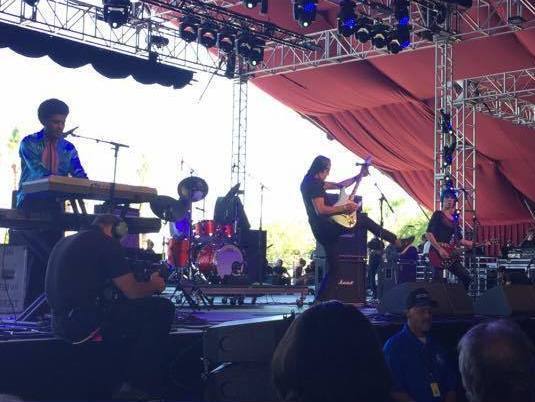 Todd Rundgren -- the musician, producer and technology innovator who will receive an honorary doctoral degree from DePauw University next month -- made a surprise appearance Friday at the Coachella Valley Music and Arts Festival in California, taking the stage with the Lemon Twigs.
"As Twigs co-front man Michael D'Addario was introducing the band's final song to the crowd, he said they were going to get a little help from one of 'their very favorite guitarists of all time' Todd Rundgren," writes Shad Powers in the Palm Springs Desert News. "The announcement drew a 'No way!' from a fan near me, as cameras and recording devices were quickly fumbled out of pockets to get a picture of the 68-year-old legendary guitarist. He sang, wailed on the guitar and even did an old-man's version of a scissor kick as energetic and acrobatic D'Addario played and jumped along side. They played a Rundgren song 'Couldn't I Just Tell You', a favorite of the Lemon Twigs."
The paper adds, "For those who may not be of the right age group to know Rundgren, he has been a rock mainstay both as a producer and artist since the 1970s. His most famous songs are 'Hello It's Me' and 'I Saw the Light', both from 1972, and favorites on classic rock stations."
Access the article -- headlined "Veteran rocker Todd Rundgren surprises Coachella crowd by jumping up with The Lemon Twigs" -- at the publication's website.
Rundgren will be among three individuals to be presented with honorary doctoral degrees at DePauw University's 178th Commencement on Sunday, May 21. Jesse Kharbanda, executive director of the Hoosier Environmental Council, and Jim Alling, chief executive officer of TOMS and 1983 graduate of DePauw, will also receive honorary degrees at the ceremony. Learn more here.
News of Rundgren's award was carried in the March 21 Indianapolis Star and other Gannett newspapers.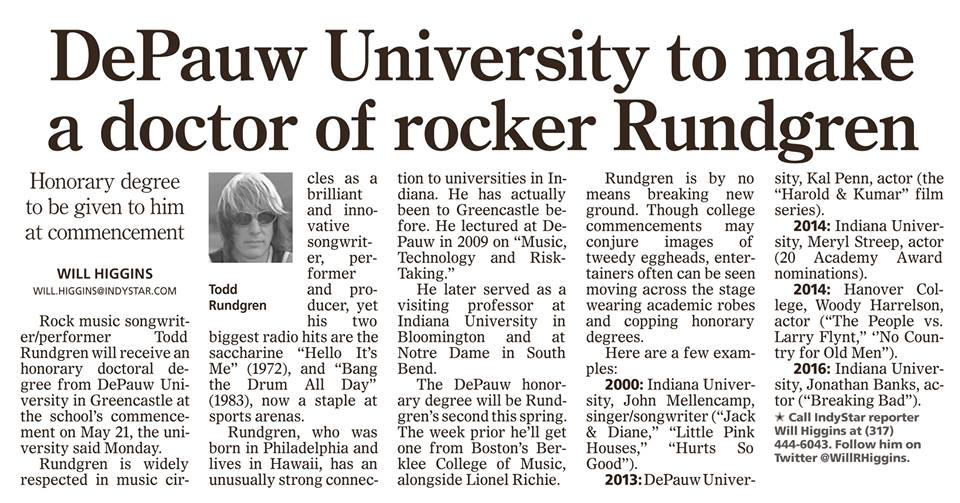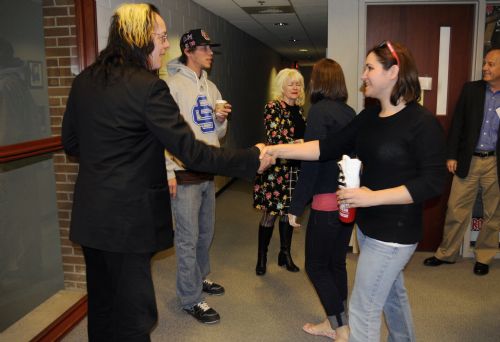 Rundgren visited DePauw in April 2009 to present a Timothy and Sharon Ubben Lecture on "Music, Technology and Risk-Taking." Since then, he has been a visiting professor at Indiana University, the University of Colorado - Denver, and the University of Notre Dame. The week before DePauw's commencement, Rundgren will deliver the address to graduates at Berklee College of Music. (at right: Rundgren at DePauw's WGRE)
Nine days before coming to DePauw, Rundgren will release his latest album, White Knight, which features collaborations with Trent Reznor, Joe Walsh, Daryl Hall, Bettye LaVette, Robyn, and Donald Fagen, among others. His visit to campus will come in the midst of a tour supporting the new record. He discussed the project this week with NPR's All Songs Considered.
Graduates and their families can order a DVD of May's Commencement. The disc will include a multi-camera shoot of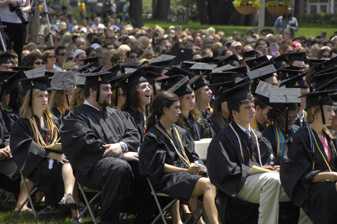 the ceremony and an array of extra features and will include footage of each graduate receiving their DePauw diploma. The DVDs are $19.95 for the first disc; additional DVDs sent to the same address will be $8 each (shipping to domestic addresses is included; 7% sales tax will be added to Indiana orders).
An online order form is available here. Learn more about the DVD in this story.
For more information on the 178th commencement, click here.
Source: Palm Springs (Cal.) Desert Sun
Back