Senior Midori Kawaue Receives Gilder Lehrman History Scholar Award
May 11, 2017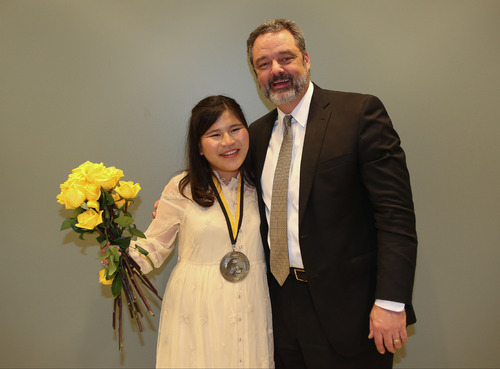 DePauw University senior Midori Kawaue is the recipient of a 2017 Gilder Lehrman History Scholar Award. The award, presented by the Gilder Lehrman Institute of American History, recognizes outstanding graduating college seniors, selected from candidates across the country, who have demonstrated academic and extracurricular excellence in American history or American studies as well as a commitment to public service, leadership, and community involvement. (at right: Kawaue with DePauw President D. Mark McCoy)
One of 15 recipients of the award, Kawaue will spend six days in New York City with the other winners in June.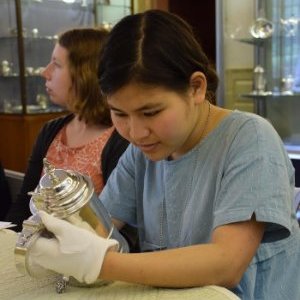 Learn more about the award here.
An international student from Japan with majors in history and French, Kawaue is a Rector Scholar, a Grew-Bancroft Scholar, recipient of the William Wallace Carson History Scholarship and Prindle Humanities Prize, and a member of Phi Beta Kappa, Phi Alpha Theta, Pi Delta Phi, and Mortar Board honor societies. Last month she was awarded the Ferid Murad Medal, which has been given since 2014 to the senior who has had the most significant scholarly or artistic achievements during his or her time at DePauw. You'll find details in this summary.
Back