Students' Efforts to Beautify Greencastle Noted in Local Paper
May 14, 2017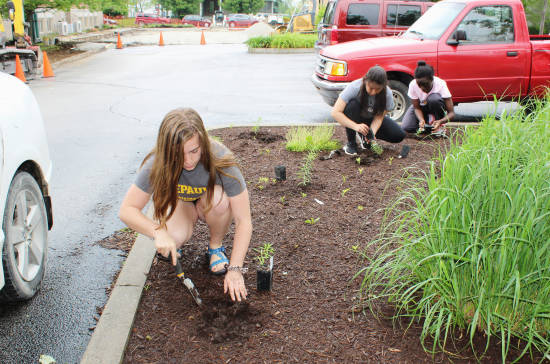 "As volunteers of the Greencastle Sustainability Commission, three DePauw University freshmen undertake a project to plant native Indiana flowers in front of the Putnam County Public Library," notes the caption to a photo in the Banner-Graphic. "Working in the area at the corner of College Avenue and Poplar Street Thursday are (from left) Rachel Moore of Avon, Mayra Leon Coss of Chicago and Joevita Weah of Indianapolis. Sustainability Commission member and City Councilman Steve Fields said the students volunteered to assist the group and the planting project was their idea."
Access the item at the Greencastle newspaper's website.
Learn more about DePauw's sustainability efforts here.
Back