Rain Chances for Commencement Diminish; 'Stars' Moved to Hoover Hall
May 20, 2017
Links: Commencement Page; Webcast; DVD Order Form; Weather
Heavy rain is falling in Greencastle with thunder in the skies 24 hours before DePauw University awards 561 diplomas at the 178th Commencement. The good news is that the Sunday forecast from The Weather Channel now calls for for a 10% chance of rain tomorrow (it was at 90% a few days ago). The latest forecast is for cloudy skies early Sunday morning with a high of 70 degrees. However, rain is expected through this evening.
Tonight's DePauw Under the Stars event has been moved indoors to Hoover Hall because of the wet conditions.
The commencement program is scheduled to take place outdoors at 10:30 a.m. in Holton Memorial Quadrangle. It will be moved indoors to DePauw's Lilly Physical Education and Recreation Center should conditions require it.
Sunday's event will be webcast live via this link.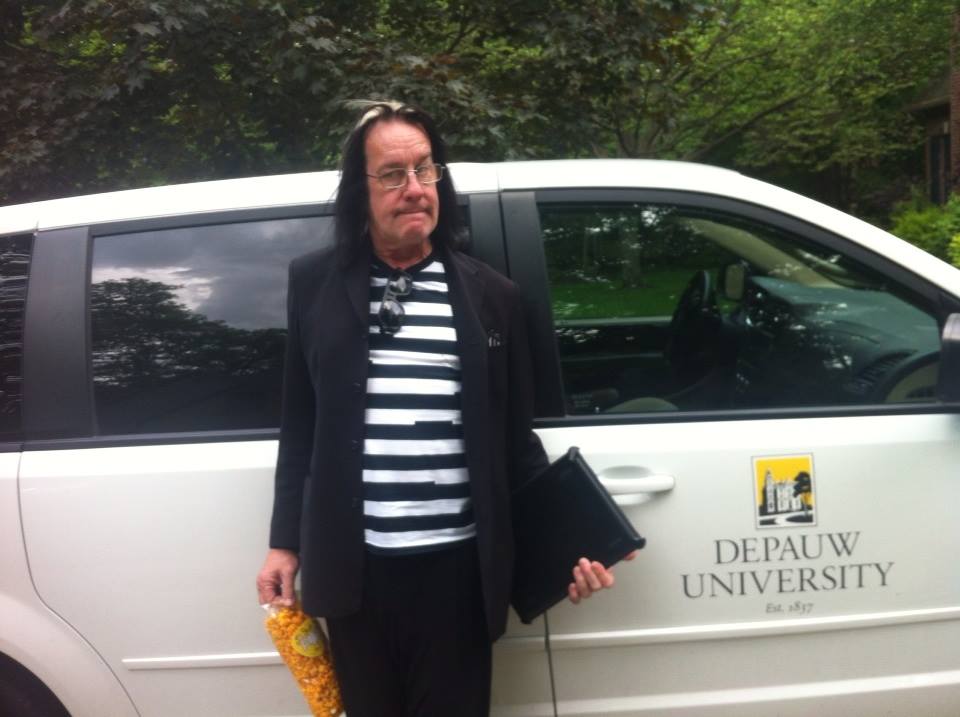 Jim Alling, chief executive officer of TOMS and 1983 graduate of DePauw, will deliver the primary address. He has led TOMS since April 2016 and was previously chief operating officer of T-Mobile and president of Starbucks International and Starbucks USA. An economics and Spanish double-major at DePauw, Alling has more than 30 years of general management and marketing experience in consumer packaged goods and consumer retailing.
Alling, rock legend Todd Rundgren, and Jesse Kharbanda, executive director of the Hoosier Environmental Council, will receive honorary doctorates at the ceremony (read more here; at left: Rundgren with his Tiger transportation)
Graduates and their families can order a DVD of May's Commencement. The disc will include a multi-camera shoot of the
ceremony and an array of extra features and will include footage of each graduate receiving their DePauw diploma. The DVDs are $19.95 for the first disc; additional DVDs sent to the same address will be $8 each (shipping to domestic addresses is included; 7% sales tax will be added to Indiana orders).
An online order form is available here. Learn more about the DVD in this story.
For more information on the 178th commencement, click here.
Back